Scottish experimental rockers Mogwai have never been the sort of band that hogs a spotlight, or preens for the cameras, and in Burning, their new DVD (in stores August 24), the focus remains on the band's mind-expanding, mostly instrumental live shows, captured in stirring black and white by French filmmakers Vincent Moon and Nathanael Le Scouarnac. Watch an exclusive trailer below!
The film combines live footage, culled from three consecutive nights in April 2009 at Brooklyn's Music Hall of Williamsburg, with atmospheric b-roll of the band and scenery from Brooklyn and New York City. Moon and Le Scouarnac-who rose to fame thanks to the Take-Away Shows series on French website Le Blogotheque-cut together an exclusive preview clip for SPIN.com, featuring audio of "Mogwai Fear Satan," off the band's 1996 debut, Young Team.
As an act known for its live performance mettle, Mogwai had long considered doing a concert film. "When you talk to people, they ask [about a live album]," guitarist Stuart Braithwaite tells SPIN.com. "But if we were going to do it, we wanted to do it properly. You can get a lot of different recordings of our shows for free. We let people share them and archive them on the website. So we wanted the film to be something that could stand on its own two feet."
Moon was living in Brooklyn at the time, and after meeting him, any concerns Braithwaite had about committing to such a project quickly faded. "I think that we're not the easiest band to work with, and to be honest, we don't really generally enjoy being followed around by cameras," he says. "In meeting Vincent, we felt we could let down our guard, because he's someone we knew had a great amount of skill. And we also knew he wasn't going to tell us to dance, or something like that."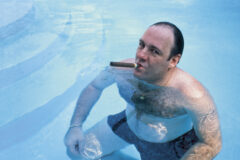 Over the three-night stand, Mogwai had to map out their setlists carefully, making sure any song they'd consider having in the film was played at least twice. And, in an attempt not to interfere with fans attending the actual gigs, they filmed all close-up shots earlier in the day, to an empty room, so cameras wouldn't obscure sightlines.
Band member John Cummings mixed the live recordings, but the band left Moon and Le Scouarnac alone to craft their visual accompaniment.
"I didn't even know the film was black and white until I saw the edit," Braithwaite admits. "So it was all a great surprise. I also didn't know there wouldn't be any dialogue in it. In fact, it's kind of funny: The Twilight Sad, who were supporting us on that tour, they were getting really drunk every night and they were really worried to see the film just in case they were acting like total idiots."
Burning is packaged as a part of a two-disc set with Special Moves, an audio-only live album, culled from the same Brooklyn shows. But Mogwai is already working on new material for their seventh full-length, expected for a February 2011 release.
"We've done like eight songs, but we're starting with the drums and the bass and stuff, but I haven't done that much," admits Braithwaite, who'd been outside playing badminton with Cummings before talking to SPIN.com, while their other bandmates worked inside the studio. "But I'm really happy with how it's sounding."
"I know some of the songs are faster than they were before, but we've got 21 songs so maybe we'll lose one and we'll add one of the slow ones," he says of the music. "It's hard to tell."
WATCH: Exclusive trailer for Mogwai's Burning