Eminem and Rihanna get personal in their new Joseph Kahn-directed "Love the Way You Lie" video, recruiting actors Megan Fox (Transformers) and Dominic Monaghan (Lord of the Rings, Lost) to play a couple trapped in an destructive relationship. With the actors embroiled in violent fights and steamy make-out sessions, the song and video address the complexity of domestic abuse, issues both Em and Rihanna have dealt with in the past. Watch the video below.
"It's the story of [Eminem and twice-ex wife Kim] getting to know each other," Monaghan told MTV, "and it's the story of their tumultuous relationship and it's the story of the breakdown of their relationship."
Hinging on Rihanna's vocal hook — "Just gonna stand there and watch me burn" — the video employs a great deal of fiery imagery: Riri stands before a burning house for much of the clip, and by the end of the video, Em, Monaghan, and Fox are all aflame.
For Rihanna, the song and video are deeply personal, especially in light of her much-publicized domestic abuse at the hands of then-boyfriend and singer Chris Brown.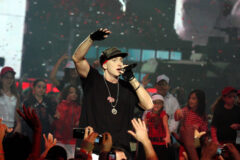 "It's something that, you know, [Eminem and I have] both experienced, on different sides, different ends of the table," Rihanna told MTV News."It just was authentic. It was real… [Eminem] pretty much just broke down the cycle of domestic violence and it's something that a lot people don't have a lot of insight on, so this song is a really, really powerful song and it touches a lot of people."
What do you think of the provocative new video?Let us know in the comments section below.
Watch: Eminem featuring Rihanna, "Love the Way You Lie"