Lindsay Lohan and Snooki may be roaming free once again, but another celebrity, rapper Lil' Wayne, is still behind bars. However, that isn't stopping him from giving interviews!
The New Orleans native — who has 93 days left on his bid at New York's Rikers Island for gun charges — called into the Big Apple's Hot 97 radio station to chat with host Funk Master Flex about an array of topics, including how he's spending his time in jail, his pals Eminem and Drake, and his next full-length album, Carter IV.
But why call? "I don't have nothing else to do but talk to you," Weezy joked.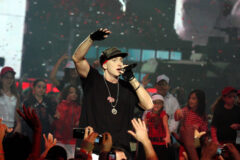 The rapper told Flex that he has spent his days reading letters from fans, and expressed gratitude for their support: "It's been more than amazing. I promise that I can't explain the love and support I've been getting from my fans. It's breathtaking." Weezy added that he listens to a lot of sports radio. "All I listen to all day, if I am listening to anything, is sports … I've never listened to anyone else's music but my own, and since I'm not able to do that up in here, I don't listen to anything. I don't listen to nothing but my thoughts."
One thing he has heard, however, is Eminem's new album Recovery. "Em is back in a major way," Wayne said. " Eminem is a great dude. He's been keeping up with me since I've been in here, and I appreciate his support." Wayne added that he also spends a lot of time on the phone chatting with his four children and Young Money's Mack Maine, and joked about keeping in touch his protégé Drake: "I call Drake at least once a week, [well] I actually call three or four times a week, but he only picks up for me once a week."
The MC also dished about his dream collabos for Carter IV — "I really want to do a song with either Andre 3000 or… Tech N9ne from the West Coast" — and admitted that he's reflecting on his prison sentence: "Everybody says that you're here for a reason, and I promise you, Flex, I try to find out that reason every day. I search for it. But I think when I get out, that'll be the only time I'll really know the answer. Every day I look for that reason."
Lil Wayne's next album, an EP called I'm Not A Human Being which is comprised of songs "that I recorded right before I came here," will drop online in September.