During this weekend's sun-soaked Mile High Music Festival, bands stopped by the American Express® ZYNC ZONE, to chat with SPIN about their summer festival experiences and much more, among them Thomas Mars and Laurent Brancowitz of French pop phenoms Phoenix — watch the interview and performance footage below!
In the interview, the duo talked about writing the music for Sofia Coppola's new film, Somewhere, which comes out in December. "We worked on the movie more as sound designers than composers," Mars said. But how do Mars and Branco feel about their music once it's in the finished film? Watch the video and find out.
The bandmates also talked about their upcoming shows at iconic venues like the Hollywood Bowl and Madison Square Garden, and how they'd like to collaborate with minimalist composer Steve Reich.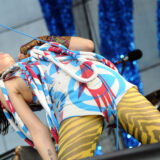 Watch the video below, and click here to check out more interviews from the American Express® ZYNC ZONE!