SPIN Rating:
Release Date:
September 14, 2010
Label:
Polyvinyl
Kevin Barnes, the madman/genius/spaz behind Of Montreal, might have the craziest career path in modern music. No one could've predicted 13 years ago that this Athens, Georgia-based geek would break from the lo-fi, '60s-obsessed Elephant 6 aesthetic and strap on a glammy persona featuring falsetto Prince squeals, Bowie-esque thespian bellowing, and a freakily theatrical stage show rivaled only by Lady Gaga and the Flaming Lips. This psychedelic, metrosexual White Negro is most himself when wearing multiple masks — his alienation from fashion, good taste, and common sense runs soul deep.
Although False Priest, Of Montreal's tenth album, is easily Barnes' most accessible, you can still hear his estrangement in the unpredictable chord progressions, the anxiously whimsical rhythms, and the distancing effects in the melodies that counter easy consumption. Inviting producer Jon Brion (Fiona Apple, Kanye West) to beef up the beats and boost the bottom end means that Priest feels cleaner than Barnes' other records — less synthesized, more physical. Previously buried details emerge, and the prominently mixed vocals make the reckless, literate wit of his lyrics pop. Yet the increased emphasis on groove always comes with complications; session drummer extraordinaire Matt Chamberlain's intricate pulse of stops and starts is as much prog as it is P-Funk.
Combining agonized ruminations with extroverted musical jizz, False Priest certainly feels like a party, albeit one fated to end badly. Barnes' tragic slapstick plays out in emotional violence that's both self-inflicted — "If I treated someone else the way I treat myself, I'd be in jail" goes one particularly lucid line in the otherwise abstract jam "Girl Named Hello" — and imposed by an intensely seductive love object. Less conceptual than 2008's Skeletal Lamping, Priest still elaborately documents his convoluted cursed attraction. The exotic femme fatale saves Barnes from a "tweaked out and depressed" state on the optimistic opener "I Feel Ya' Strutter," though by the second track, "Our Riotous Defects," he's already laying down a foreboding monologue that begins, "When I first met you at that Al-Anon meeting…."
R&B bohemians drop by to embody playful yet star-crossed attractions. On "Enemy Gene," Barnes expands the man versus man-machine theme of Janelle Monáe's The ArchAndroid, a kindred album to which he contributed his own track, "Make the Bus." Once again their voices blend uncannily, which in itself acts as commentary on sexual/race relations. No simple jungle love here; instead, they express a shared universal pain. "How can we ever evolve when our gods are so primitive?" they ask. "Sex Karma," his purple paisley duet with Beyoncé's little sister Solange Knowles, gets friskier, yet there's a bittersweetness in the melody as they declare, "You are my only luxury item."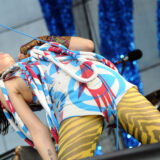 Though the album suggests that religion itself — separate from spirituality — is mankind's falsest priest, the songs are mostly devoted to doomed passions. The parallel is implicit: Indulging in worshipful, can't-win relationships with sexy psycho bitches, no matter how intoxicating, thwarts the godly power within. Beneath all the beat-driven drama, Barnes is a heartbroken singer-songwriter, drunk on love's bluesy rosé because he's scared shitless that he'll never find a sober, sane identity that holds all the deviant beauty he sees in the world. He's in crisis, and these are his confessions.