Eminem dished about his prescription drug addiction in SPIN's August cover story, and now the Detroit rapper has opened up about the loss of his 8 Mile co-star Brittany Murphy, who died last December of drug-related cardiac arrest at age 32.
"It was crazy," Em said in Vibe magazine's August/September cover story. "It's crazy because at one point we were very close and she was a really good person. It's crazy when you see things not just with her but just all these things that are happening in Hollywood with people in music, with people in acting."
"Famous people. Famous people are overdosing at alarming rates and — that almost sounded like a commercial. Wow." He continued: "But they are. And it's one of those things, man, where you're famous, doctors will kiss your ass because they love the celebrity. 'Oh, I can call up Eminem and get him on the phone right now. Oh, hi Marshall, how are you doing? Do you need that [prescription]?' There are doctors that will give you certain things just because of who you are."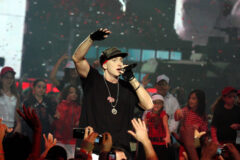 The rapper added that he's often haunted by thoughts of his own death, and recalled a drug overdose that nearly killed him.
"I think about [death] a lot," he said. "I try not to think about it but I do and it creeps me the fuck out. It creeps me out because they say that if I got to the hospital two hours later then I would be gone."
In SPIN's August issue, Em talked in depth about drug addiction and its destructive affects. "I just gave up," he said, describing a ritual of popping pills and over-eating. "I was trapped in my head. I'd spent most of my career going against the grain. Calling bullshit. And suddenly, I started running out of enemies. I started to become that cliché: my own worst enemy."