Though lately spoken of as a mere stepping stone toward the more restrained, and commercially viable, alt-country scene of the '90s, cowpunk of the '80s took hick licks in the opposite direction — revving 'em up, not cooling 'em down. Its hotbed was near Hollywood, and it burned out fast. But briefly, even R.E.M. and the Replacements joined in the fun.
Rank and File
Sundown
Slash, 1982
Brothers Chip and Tony Kinman, foregrounding harmonies that were hardly close — imagine an inordinately dry Johnny Cash up against a washer-womanly blushing violet — trade in the class-warring of L.A. punk troupe the Dils for sagebrush pop rock as schooled in Ennio Morricone as Merle Haggard. On later records, they took themselves too seriously, but on this debut, hooky ditties like "Amanda Ruth" and "The Conductor Wore Black" win out. Secret weapon: former Nun and future adult-alternative hero Alejandro Escovedo on guitar.
X
Under the Big Black Sun
Elektra, 1982
After two landmark sleaze-punk LPs about the urban underbelly and the perils of bohemian couplehood, these three L.A. flea-market beatniks and pompadoured rockabilly guitarist explore their heretofore hidden rural-route roots. Several songs still romanticize philandering, though the best might be "The Have Nots," which instead romanticizes real-life blue-collar taverns such as "The Aorta Bar, Detroit's Main Vein." The sweetest melody comes via Leadbelly ("Dancing With Tears in My Eyes"); the album's primary inspiration, reportedly, was the 1980 death of covocalist Exene Cervenka's sister Mirielle.
Jason and the Scorchers
Fervor
EMI America, 1983
On cowpunk's definitive document, the "punk" part is a misnomer; mostly, these Music City pyromaniacs back Jason Ringenberg's morally conflicted, hiccupping, revival-tent honky-tonk with hyped-up post-Stones hard rock, though a couple of cuts betray more modern Devo-luted whip-cracking. The centerpiece, an overdriven take on Dylan's "Absolutely Sweet Marie," was added to the original indie EP when major label EMI picked it up.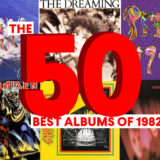 Meat Puppets
Meat Puppets II
SST, 1984
Two Kirkwood brothers, tumbling like tumbleweeds out of Phoenix, ride their rusty, rustic cactus- mobile across desolate desert plateaus toward the Aurora Borealis, making Neil Young, the Grateful Dead, and bluegrass safe for the hardcore hordes. When bad folks die, the heaviest track explains, they go to the lake of fire and fry. Kurt Cobain empathized enough to cover that one, and two others, on MTV Unplugged nine years hence.
Mekons
Fear and Whiskey
SIN, 1985
Amateurist Brit avant punks, from the same Leeds milieu that coughed up Gang of Four, complete a transition they first instigated on a roots-tinged '83 EP. Distorted with dub echoes, obsessed with displacement, disgrace, despair, and death on the battlefield, their tradition-mining is more shelter from the storm than purist retreat. They close by resuscitating Hank Williams' "Lost Highway," whose road still hasn't been found.
Long Ryders
State of Our Union
Island, 1985
To pinpoint their self-conscious distance from Nashville, consider that these janglers emerged from L.A.'s neo-psychedelic Paisley Underground, and main man Sid Griffin later wrote a Gram Parsons biography. Yet somehow, they land on a big label and tunefully tackle Reaganomic hard times: "Louie Louie" descendent "Looking for Lewis and Clark" and Memphis soul-station homage "WDIA" even place the union's state in a coherent historical context.
Danny & Dusty
The Lost Weekend
A&M, 1985
In their respectively druggy City of Angels groove bands Green on Red and the Dream Syndicate, Dan Stuart and Steve Wynn weren't big on supermemorable songs, though the latter had guitar-god Karl Precoda expanding minds. Here, though, the pair switch their inebriant of choice to liquor, and with sundry fellow barflies fashion a piano-pushy Blonde on Blonde ramshackle that hilariously champions all the one-eyed potty mouths and number-running fuck-ups at their local.
Those Darlins
Those Darlins
Oh Wow Dang, 2009
Surely a few other impolite indie-twang albums in the past quarter century haven't succumbed to alt country's usual tasteful lethargy — check the Woodbox Gang, for instance, or the Legendary Shack Shakers. But there's no denying that this trio of leggy Southern hussies get cowpunk's spirit just right: snaggletooth stomps about driving drunk and eating entire chickens, played so speedy you willingly excuse the sloppiness. One of the catchiest, "Cannonball Blues," dates to 1929.