Now officially Akron, Ohio's favorite sons (thanks, Lebron!), the Black Keys have become the year's surprise overnight success story. All it took was one decade, six albums, and the salvaging of a brotherly partnership. [Magazine Excerpt]

On a warm late-June evening in the backstage area of London's Hyde Park, the Black Keys are winding down from their biggest ever show, having just played to 65,000 Kings of Leon fans. Singer and guitarist Dan Auerbach, who looks marginally less like a Civil War veteran since he trimmed his beard, sips bourbon from a plastic cup. Lanky drummer Patrick Carney smokes Lucky Strikes and talks to his girlfriend, Emily. A guy walks past, sporting a fulsome rock-star mane. "Famous people have weird hair 'cause that's their thing," says Carney in a tone of languid amusement. "So when I see someone with hair like that, I think, 'Oh, they must be famous.' But no, they just have a gay hairdresser."
The Black Keys, as they readily acknowledge, are not famous, but they're getting there. Carney recently befriended Kings of Leon's Caleb Followill after moving to New York City from the band's hometown of Akron, Ohio–hence their opening slot on this enormous stage. "It was frightening," says Carney, who often removes his thick-framed prescription glasses before going onstage so he can focus on his drumming rather than the audience. He shrugs. "But not bad considering we've never had a hit single."
Followill, a longtime fan, had his reasons for handpicking them. "We wanted them there to pump us up," he says. "They're great drinking buddies, and they're gonna be around a long time." Like Kings, the Black Keys are a relatively old-fashioned proposition: They have built their following brick by brick. Each of their six full-length albums, from 2002's The Big Come Up to this year's Brothers (182,000 sold — and counting), has been bigger than its predecessor, as their music has expanded from raw-boned basement blues-rock into spookier, swampier, sexier territory.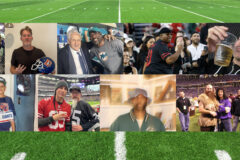 "Our career's been like this," says Carney, moving his hand on a steady rising gradient. "But we've seen bands who've done the bell curve: straight to the top and then straight to the fucking bottom. They sell five million records, and the next thing you know, no one gives a shit."
For a band with no hits, they do have some high-profile admirers. Thom Yorke has said he looked up to them. Robert Plant volunteered to play bass for them. Damon Dash had them collaborate with the likes of Mos Def and the RZA on last year's Blakroc project. Their songs have been licensed, lucratively, to a prodigious number of commercials (American Express, Victoria's Secret), movies (School of Rock, Zombieland) and TV shows (Entourage, Gossip Girl, Rescue Me). Their 2002 song "I'll Be Your Man," which is the theme to HBO's Hung, is now greeted by audiences as if it were a giant radio hit. "I hear that song and I remember Pat and I in a basement, recording it on a little piece-of-shit recorder," says Auerbach. "That's part of the fun of getting songs in commercials and TV shows, because it cost us $2.50 to record them."
And it may be that humility that's driving the band's current popularity. "I think we've gained a lot of fans for all the reasons we're not played on the radio," says Auerbach, as Kings of Leon thunder away in the background. "People appreciate that we grew up in the Midwest in a small town, that we're friends, that we record in the basement. We've felt like underdogs forever."
Five days later, the Black Keys are in the devoutly unglamorous Midlands city of Birmingham, sitting in the kind of ersatz Italian restaurant that confirms every damning prejudice that Americans hold against British food. Carney pokes suspiciously at a lurid pasta dish. "I think a sixth grader made it up after school," he says, but he clears his plate anyway. The duo could compile a Zagat guide to awful road cuisine. "On our first tour I remember thinking, 'Why is it that Dan needs wonton soup and I'm happy to eat garbage?'?" says Carney. "He's a little more civilized."
The pair exhibit the timing and chemistry of a long-standing comedy act. Carney, 30, has the edge in terms of extravagant profanity; Auerbach, 31, is quick and wry. "I think that's the only thing that got us through those early days," says Auerbach. "Sleeping in a shitty van, driving through West Texas with no air conditioning, day upon day of misery just to go and play in front of eight people. Humor is what got us through it. 'Cause America's fun to laugh at, you know?"
They started playing together in high school, but didn't form the Black Keys until the summer of 2001. By then, both were college dropouts, working menial jobs, and this felt like their last shot. "It was the ultimate low point," says Carney, who has the brain of an accountant. He can still tell you his hourly wage at the Akron coffee shop he worked in that summer, and explain, dollar by dollar, how even when they were only making $100 a show, they were still doing better than restaurant laborers. "It's made us tighter with our money," says Auerbach, picking at a sorry-looking mound of salad leaves and bacon. "We're still holding back, I guess."
One unexpected hazard of touring was encountering more privileged bands. Black Keys once almost came to blows with some "fucking pricks, private-school kids" from a briefly fashionable band they decline to name. "We can't relate to people who grew up in L.A. or New York City," says Auerbach. "It's like seeing the rich kid in high school get a BMW for his 16th birthday."
"And you're still driving a fucking 1992 Ford Tempo," says Carney with venomous specificity. So what do their parents do?
"Oh, our dads own a hedge fund," deadpans Carney.
"Once we're 35, we can quit this bullshit," says Auerbach.
In reality, Auerbach's dad sells antiques and Carney's writes for a local Akron paper. In Akron — a city so emblematic of economic decline that the Pretenders' angry, mournful "My City Was Gone" is Rush Limbaugh's radio theme song — this makes them solidly middle class. They admit they've had some lucky breaks: Sleater-Kinney gave them their first major support slot in late 2002 and smuggled them into a Saturday Night Live after-party so they could pass their demo to Beck, who had them open his own tour. They were even invited to San Francisco to record some of 2003's Thickfreakness with Jeff Saltzman, who went on to produce the first Killers album. "He was super-nice, but it sounded like modern-rock radio," says Carney. "The drums sounded like fucking Mötley Crüe. If we would have followed that route, we would have been part of the bell curve."
Thickfreakness was subsequently rerecorded in Carney's basement in a single day, not due to some Jack White–style principled orthodoxy, but because they spent their tiny advance from Fat Possum Records on rent. Their third album, Rubber Factory, was made in an old tire plant. They didn't even use a proper studio or hire a producer until 2008's Danger Mouse–produced Attack & Release. Brothers, recorded primarily in Muscle Shoals, Alabama, was their longest studio session yet: an epic 17 days. "That's like us making Tusk," jokes Carney. "Like Fleetwood Mac spending six months doing pounds of fucking drugs." Residents of Muscle Shoals were upset when a journalist paraphrased the band describing the fabled studio as "a spare, run-down building in a ghost town," but Carney is unrepentant. "That's like [U.K. roadside chain] Little Chef being offended when I say their food tastes like shit. I'm sorry, but it's true. We usually record in dusty, moldy, cheap places."
"We've never really gone about it in a logical way," says Auerbach. "I mean, we want success, but we sure don't do the things you usually do to get success. We made our first four records in conditions where most record labels would be like, 'Are you out of your mind?'?"
"How do you make something that has mainstream appeal but also when you get up in the morning, you're not cursing yourself out in the shower, like, 'What the fuck is wrong with me?'?" asks Carney. "That's the fine line. But we're honest. Lots of bands would sit here and never admit to wanting to be successful. Fuck that shit. Honestly. That's bullshit."
Auerbach says he never understood indie cred because he only listened to hip-hop and blues, genres traditionally unperturbed by cries of "sellout." (His musical knowledge is so specialist that when Radiohead asked the Black Keys to open for them in 2006, he hadn't heard a note of their music.) The only major regret of their career is turning down, on their manager's advice, $130,000 for a British mayonnaise commercial. "That would have paid my rent for two years," mutters Auerbach. "It's almost insulting to my mom, who works every day teaching kids and doesn't get paid shit. As long as your art is pure, who cares where it is?" Carney nods emphatically and adds, "So we fired his ass."
The oddest place they've heard one of their songs? A strip club. "It's not obvious stripper music," says Auerbach. "We make music for hipster strippers."
Read the full Black Keys story in the Sept. 2010 issue of SPIN, on newsstands now.