My Morning Jacket frontman Jim James is standing on line for a port-a-potty backstage at the Newport Folk Festival wearing a brown suit and a giant smile on his face. "It's unbelievable," he tells SPIN.com. "You've got the sun on your skin and the breeze in your hair. It's magical here… It's just magical."
Dude has a point.
As far as summer music experiences go, Newport Folk is a one-of-a-kind event: the two-day fest — notorious as the place Bob Dylan went electric in 1965 — is held at Fort Adams, an 18th-century military base in the picturesque Rhode Island vacation town with big yachts and bigger estates. The grass grows right up to the ocean, where concertgoers — about 17,000 over the weekend — splashed under the sun and enjoyed a beautiful view of hundreds of boats anchored just offshore.
The festival, which has a rich history of uniting disparate genres of music, featured soul singer Sharon Jones & the Dap Kings, 87-year-old country vet Doc Watson, and everything in between. The one common thread: each artist's sound is celebration of American music, thus qualifying it as "folk," or "carriers of culture."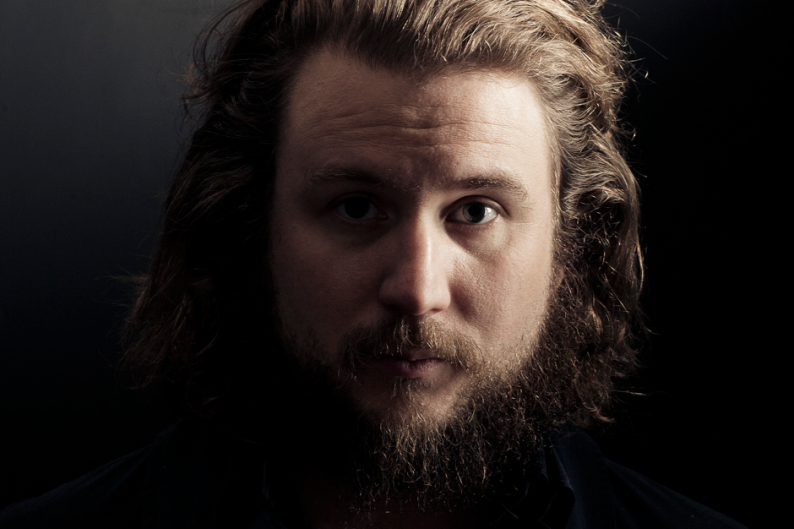 And collaborations were encouraged: Calexico played with Andrew Bird, who performed with the Preservation Jazz Hall Band, who also recruited folk-rocker Cory Chisel and Jim James, who jammed separately with John Prine and singer-songwriter Daniel Martin Moore, who also appeared with cellist Ben Sollee.
Here are our eight musical highlights from Folk Fest's three stages:
BEST UPDATED JOHNNY CASH AND JUNE CARTER: EDWARD SHARPE AND JADE CASTRINOS
This group of rag tag hippies from Los Angeles seemed more like members of a commune or a renaissance fair than a working band as they closed the festival Sunday evening, but that didn't stop them from drawing the weekend's largest crowd to the Harbor Stage with a spirited musical spectacle. Wearing a white sport jacket (sans undershirt) and a red scarf with his dreadlocks flailing behind him, ringleader and former I'm a Robot frontman Alex Ebert danced like a merry prankster onstage and in the crowd, leading the 10-piece group in "Home," a charming duet between Ebert and singer Jade Castrinos that's featured in an iPod commercial. "Alabama, Arkansas / I do love my mom and pa / But not the way I love you," she sang. "Holy, moly / Me, oh my / you're the apple of my eye," Ebert replied. For just a moment, the two transcended their images and were like Folk Fest's freaky version of Johnny Cash and June Carter.
BEST STORYTELLER: JOHN PRINE
This 63-year-old is one of America's most revered and accomplished singer-songwriters, and Saturday he reminded Folk Fest that the accolades are no fluke. Prine — who has found a cult following in young musicians like Conor Oberst, Bon Iver, the Avett Brothers, and MMJ's Jim James (who all appear on a new Prine tribute album) — spent his hour-plus set reciting stories in his dry, tell-it-as-I-see-it style. He introduced "Fish and Whistle" by explaining that it was inspired by a "stubborn record producer," who told him to write one more song for his 1978 album Bruised Orange, so "I went to my hotel room to write the worst thing he ever heard. But then I sang it a couple hundred times and I started liking it." On "That's the Way the World Goes Round" he told the tale of an unlucky drunk; and on "Lake Marie" he waxed nostalgic about the time he and his wife went camping in Canada to "save our marriage and catch fish… whichever came first." The set ended with Prine and Jim James singing cheek-to-cheek on a duet of "All the Best," a story about the importance of love and happiness.
BEST FUNKY CHICKEN: SHARON JONES & THE DAP KINGS
The New York singer and her band may have been the lineup's largest stylistic departure from typical folk music, but their hot-blooded set proved to be just as vital to Folk Fest as an acoustic guitar. Jones, a supercollider of energy, sprinted around the stage, danced, and tussled at her yellow and orange summer dress while her band blasted a sound so classic that it qualifies as folk. She even led the crowd in the funky chicken, shouting, "booogalooo, booogalooo!!!" while flapping her arms like wings.
BEST FOLK VETERAN: DOC WATSON
This blind country singer, songwriter, and supreme instrumentalist, 87, has been honored with six Grammys, a National Medal of Arts, a National Heritage Fellowship, and a lifetime achievement award from the Recording Academy. Despite his advanced age, he fingerpicked confidently on "Blue Ridge Mountain Blues," played the blues on Jimmy Reed's "Bright Lights, Big City," and performed a chilling version of one of Kurt Cobain's favorite songs: Leadbelly's "Where Did You Sleep Last Night."
MOST POPULAR: JIM JAMES:
Nobody embodied Folk Fest's collaborative and laidback spirit more than the My Morning Jacket frontman. He dueted with John Prine on a pair of tracks and joined Preservation Hall Jazz Band to sing Jimmy Rodgers' 1930 tune "Blue Yodel No. 9." He joined singer-songwriter Daniel Martin Moore and cellist Ben Sollee during their sets, and performed his own tunes Saturday afternoon with Moore and Sollee backing him up on vocals and cello. (The three are touring together as "Appalachian Voices," raising money to stop Mountaintop Removal coal mining). James focused on stripped down versions of MMJ tunes: a keyboard version of the jubilant guitar explosion "What A Wonderful Man"; an acoustic shuffle of "Smokin' from Shootin'" (an experimental track from their new album Evil Urges) with a snappy drum part firing like a gun on the chorus; and a Spanish guitar rendition of "Gideon," an atmospheric highlight from Z. The best part: his high-pitched voice that could clear fog from the tallest of the Appalachian Mountains.
BEST DISCOVERY: POKEY LAFARGE & THE SOUTH CITY THREE
This 26-year-old St. Louis troubadour is all about reviving the roaring 1920s — and onstage Sunday he did a fine job. Wearing a high-waisted gray suit with perfectly slick-backed hair, LaFarge strummed an acoustic guitar and lead his three-piece band on old-school jazz and blues standards like the snappy and fun "Right Key, Wrong Key Hole," plus ragtime, swing, and Delta-meets-Appalachia tracks off their aptly-titled new release, Riverboat Soul. "This is a folk festival and we are playing American music, people," he announced from the stage. Amen.
BEST RAMBLING PACK OF HOOLIGANS: WHAT CHEER? MARCHING BAND
They never actually took a stage, but Providence, RI's What Cheer? marching band dominated Folk Fest like a headliner. The 15-person-plus group of musicians dressed in all-black clothes, colorful body and face paint, and, in few cases, Scream-style masks, roamed the festival grounds and performed several times a day, from the parking lot to the beer garden. Their joyful music — and matching smiles! — were a thunderous treat at each turn.
BEST BRING-A-TEAR-TO-YOUR-EYE MOMENT: PRESERVATION HALL JAZZ BAND
After James, Andrew Bird, Daniel Martin Moore, and Wisconsin folk-rocker Cory Chisel took turns singing lead with the legendary New Orleans band, tuba player Ben Jaffe stopped the music for a few special thanks. Jaffe, the son of Allan Jaffe, the late developer who transformed Preservation Hall into a NOLA jazz tradition, pointed stage right to his mother, who sat with George Wein, the founder of Newport Folk Festival. He spoke of equality in music, applauding his mother and father's work with the Preservation Hall, which "defied" all Jim Crow laws of the time. He thanked Wein, 84, calling his fest instrumental in bringing together musicians of all races and ethnicities. The ensuing standing applause was deafening.