T.I. just released the new video for his single "Got Your Back," featuring Keri Hilson — and this one's for the ladies. Check it out below!
The video tells the story of a man sentenced to prison and how it affects his current relationship — a fitting subject, as T.I. was released in March from his nine-month stint for a weapons charge. The clip for "Got Your Back" depicts a man and woman enduring each part of the incarceration process, from the courtroom trial to saying goodbye to a prison visit.
"Pop a bottle, get a couple wine glasses," the Atlanta rapper spits above rumbling bass. "Fill 'em up and lift 'em up let us toast to the future / Here's to us, no here's to her." At the end, T.I.'s real-life fiancée Tomeka "Tiny" Cottle makes a cameo, throwing her hand on the rapper's shoulder in support.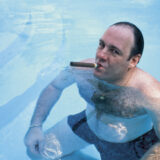 In related news, T.I. was just announced as a performer at Maryland's free (yes, free) Virgin Mobile Fest in September, along with M.I.A., LCD Soundsystem, Pavement, and Ludacris (plus a bunch of other sweet bands). The free tickets get released July 23 — get details here.