Of Montreal visited Late Night with Jimmy Fallon Thursday dressed as fashionable ghouls in white face paint and suits and gowns to debut "Sex Karma," a new song from their September 18 release False Priest — and they brought along a little help: Solange Knowles, aka Beyonce's younger sister. Watch below.
Frontman Kevin Barnes and Knowles traded verses on the funky, Motown-esque number with tongue-in-cheek lyrics about sex: "I know that you want to scream / Honey, touch my everything / I look like a playground to you," Knowles sang. "Close your eyes and count to three / I'll kiss you where I shouldn't be," Barnes replied as Knowles gyrated down her microphone stand. A group of mimes (um… drinking milk?) joined the band on stage, too. Steamy… and weird!
While the song will appear on False Priest, Barnes told SPIN that it was originally intended as a solo track for Knowles. "When I wrote 'Sex Karma' I thought it would be cool if it appeared on [Solange's] record," Barnes said. "I sent it to her and for a while that was the plan. But I really liked it and changed my mind, and we decided to record it as a duet." Good choice.
What do you think about their performance of "Sex Karma"? Tell us in the comment section below!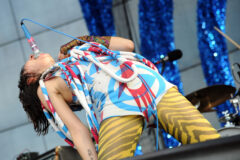 WATCH: Of Montreal with Solange Knowles, "Sex Karma"
https://www.youtube.com/embed/jQi87Xg4sgQ