British nu-rave band Klaxons have released a video for "Echoes," the first single off their August 23 release Surfing the Void, and other than the moon itself, the quartet couldn't have picked a more fitting location for a song about "echoes from the other world." Watch below.
The video — shot with longtime creative director-collaborator Saam Farahmand — finds the London lads performing in Egypt's White Desert, an otherworldly setting that bolsters the apocalyptic, sci-fi feel of the song's spooky synths, frantic guitars, and chanting vocals.
"Echoes" is the second track to leak from Klaxons' Surfing the Void. The first, "Flashover," which debuted in May (listen here), was the band's first new music since their 2007 debut Myths of the Near Future. Far less aggressive than "Flashover," "Echoes" is reminiscent of their breakout pop hit "Golden Skans" and may preview the sound fans can expect from the upcoming album (label execs asked the group to re-record part of the album for being too "heavy" and "experimental").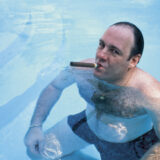 Klaxons are currently on tour in the U.K. and are plotting a U.S. trek beginning in September. See dates here.