Much like the latest album from the Gaslight Anthem, the just-released video for title track "American Slang" is a New York City story, set to the New Brunswick, New Jersey, band's working-man's rock'n'roll. Watch it below!
The black and white video pairs gritty shots of subway cars, the Statue of Liberty, famed street signs, and bridges galore with the band's performance footage. The visual journey mirrors SPIN's recent feature on the band, where they were photographed atop a double-decker tourist bus that cruised by NYC's most famous landmarks.
American Slang debuted at No. 16 on the Billboard album charts last month, and the band has two high profile gigs coming up: July 23 on The Tonight Show and a headlining gig at New York's famed Radio City Music Hall on September 30.
Check out the video below and voice your opinion on "American Slang" in the comments section!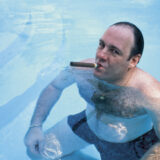 WATCH: Gaslight Anthem, "American Slang"
https://www.youtube.com/embed/oAqbnTKQBIY