Liz Phair is back — even though we weren't exactly expecting her. With little fanfare, the Exile in Guyville singer-songwriter has self-released a new album called Funstyle, her first since 2005, via her official site. Hear "Bollywood," her rapping rant against the music industry, below.
The song finds Phair, 43, documenting fruitless attempts to make money in the music biz; she tells the tale while rapping over tabla beats and "talking" with various characters. "I was trippin' lookin' at my portfolio," Phair rhymes. "Wonderin' how I was gonna make enough dough, you know."
Later, she drops lines about attempting to squeeze money out of CBS, for whom she scored the short-lived television show Swingtown, and tries to decipher her publishing deal. "Pulled out the contract from the file cabinet on microfiche in the form of tablets made of stone," she raps, then recounts her publishing rep's response: "Oh shit you're 20 years older / Still hot but gettin' a lot colder."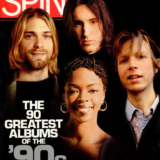 The rest of Funstyle offers a wild mix of styles, from the awkward electro pop of "Bollywood" and "Smoke" to weak-kneed Starbucks fare like "Miss September" to the soulful, Christina Aguilera-ish romp "My My."
Phair — who's scheduled to perform at Matador Records' 21st birthday weekend in Las Vegas — last surfaced when ATO Records re-released her classic 1993 album Exile in Guyville, which she supported with a few live appearances. Phair's official site proclaims that a new website and tour dates are coming soon.
What do you think of "Bollywood" and Liz Phair's return? Sound off in the comments section.