Wilco frontman Jeff Tweedy produced gospel legend Mavis Staples' September 14 release You Are Not Alone, as well as wrote a pair of its songs, including the title track. The album version, on which the two duet, recently dropped online. But Tuesday, Tweedy's solo version of the track hit the web, and boy, oh boy, does the Chicago rocker have soul. Listen below.
In his version, Tweedy goes solo with an acoustic guitar, singing the tune's lyrics of reassurance and love in his scratchy, life-worn voice. "I want to get it through to you," he sings. "You're not alone."
In contrast, Staples' version is slower but equally powerful. Over an alt-country groove, she sings, "A broken dream / A broken heart / Isolated and afraid." (The 70-year-old roseto fame as lead singer for the chart-topping Stax group the StaplesSingers.)
Which version of "You Are Not Alone" do you like best? Listen to both below, then tell us in the comment section!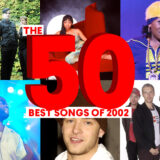 Listen: Jeff Tweedy, "You Are Not Alone"

Listen: Mavis Staples, "You Are Not Alone" (album version)