Ladies and gentleman, Kanye West is back. Thursday, the controversial rapper released "Power," the first single off his upcoming album, tentatively titled Good Ass Job, which is now expected for a September 14 release.
The song — which West performed this past Sunday at the BET Awards — returns to the aggressive tribal beats and memorable, if egotistical and nasty, lyrics of the rapper's pre-808s & Heartbreak era. "Fuck SNL and the whole cast," he spits. "Tell 'em Yeezy said they can kiss my whole ass / More specifically, they can kiss my asshole." He continues, "Stop trippin', I'm trippin' off the power / 'Til then, fuck that, the world's ours."
Download the song from iTunes here and peep the single's creepy artwork — a dead king's decapitated head, eyes still open, with a sword stuck in its side — right here.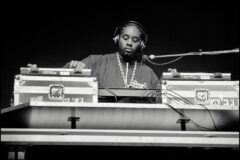 "Power" is the first new music from SPIN's former Entertainer of the Year since 2008's 808s & Heartbreak, and concludes the rapper's self-inflicted exile following his now infamous "Imma-let-you-finish" moment with Taylor Swift at the MTV VMAs, nine months ago.
As the single emerges, more details about Good Ass Job have come to light. BET honcho Stephen Hill told Rap-Up.com that he heard four tracks from the record, including one featuring rapper Nicki Minaj. Common, Mos Def, Drake, Kid Cudi, RZA, Pete Rock, and DJ Premier are also expected to appear on the album.
What do you think of Kanye's "Power"? Tell us in the comment section below!