In late June, indie rock pioneers Guided by Voices announced that their classic, 1993-'96 lineup was reuniting to play the Matador Records 21st Birthday in Las Vegas this October. Not a big winner at the blackjack tables? Well, luckily for you, the lo-fi legends just announced a nationwide tour!
Frontman Robert Pollard, guitarists Tobin Sprout and Mitch Mitchell, drummer Kevin Fennell, and bassist Greg Demos — the lineup behind albums like Bee Thousand, Alien Lanes, and Under the Bushes Under the Stars — will kick off a 17-city trek on September 30 in Austin, TX. (Columbus, OH, lo-fi outfit Times New Viking and Portland, OR, folk rockers Blitzen Trapper — both clearly influenced by GBV — will open select dates.) For ticket info visit GBV's website.
In related news, Pollard recently chatted with SPIN about 4,192, a documentary about baseball legend Pete Rose, which the rock vet scored. Read more here.
Are you excited for see Guided by Voices live this fall? Tell us in the comment section!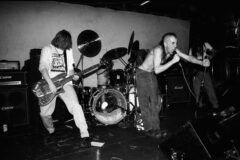 Guided by Voices tour dates:
9/30, Austin, TX (East Side Drive) *
10/3, Palms Hotel, Las Vegas NV (Pearl Theatre / Matador at Twenty-One Las Vegas)
10/4, Los Angeles, CA (Wiltern) *
10/5, San Francisco, CA (Warfield) *
10/7, Portland, OR (Crystal Ballroom) *
10/9, Seattle WA (Showbox So Do) *
10/12, Minneapolis MN (First Avenue) *
10/13, Chicago IL (The Vic) *
10/15, Newport KY (Cincinnati / Southgate House)
10/16, Columbus OH (Outlands Live)
10/21, Washington D.C. (9:30 Club)
10/22, Carrboro NC (Cat's Cradle)
10/23, Atlanta GA (Buckhead Theater)
11/4, Late Night with Jimmy Fallon
11/5, Boston MA (Paradise) &
11/6, Philadelphia PA (Trocadero) &
11/7, New York City (Terminal 5) &
* w/ Times New Viking
& w/ Blitzen Trapper