Danish quintet Oh No Ono's U.S. debut, 2009's Eggs, is a stunning set of meticulous, theatrical songs that range from psychedelic head-trips to silken electro. "Internet Warrior" is the album's catchiest moment, and its new, animated video is as fun to watch as the song is to hear. See it below.
"The song is, in many ways, about interpreting dreams," drummer Kristoffer Rom tells SPIN.com. "The video works as some sort of visualizer for this theme, and has this ambient feeling that doesn't take focus away from the song."
"The idea was to create a magical world, a mixture of organic forms and geometrical shapes," co-directors Carolina Melis and Alessandro explain. "We started working on this video from a vintage book of diorama. We didn't story-board and plan, we just started with one image and let this work grew day after day following the natural development of the animation."
The band is releasing the video in conjunction with a new EP of remixed Oh No Ono tracks, also called Internet Warrior, which comes out July 27. Among the acts lending their talents to reworked versions of tracks from Eggs: Caribou, Zambri, Birds & Batteries, and more.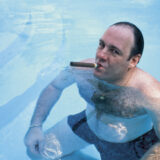 "We've all been huge Caribou fans for years so it was quite an honor for us to work with him," Rom says. "Zambri's remix is probably the most creative remix anyone has ever done for us, so huge kudos to them!"
What do you think of Oh No Ono's dreamy video? Let us know in the comments section.
Watch: Oh No Ono, "Internet Warrior"