Montreal's Chromeo are unabashedly tied to the '80s, and it's not just expressed through the drum machine-laced, vocoder-enhanced, sexy-as-hell electro pop sound of their third album, Business Casual (out Sept. 14). Their visual aesthetic is infused with Reagan-era flourishes, too — check out our exclusive first look at the new album's seductive cover below.
Shot by renowned British erotica photographer Harri Peccinotti and designed by French firm Surface to Air (whose clients also include fashion brands Louis Vuitton and Tsumori Chisato), the cover concept depicts a leggy office worker making copies — and was inspired by one of Chromeo's favorite albums: Robert Palmer's 1975 album, Pressure Drop, and its kitschy, erotic cover.
"We were looking at album covers like Pressure Drop, one of my favorites," says Dave 1, one half of Chromeo, along with P-Thugg. "We used the same grain on our new album cover. You've got those legs and the sexy secretary vibe, but then the photo copier spits out images of me and P, and we look like guys from today. So it is retro, but at the same time there's a post-modern, meta twist that goes with the music."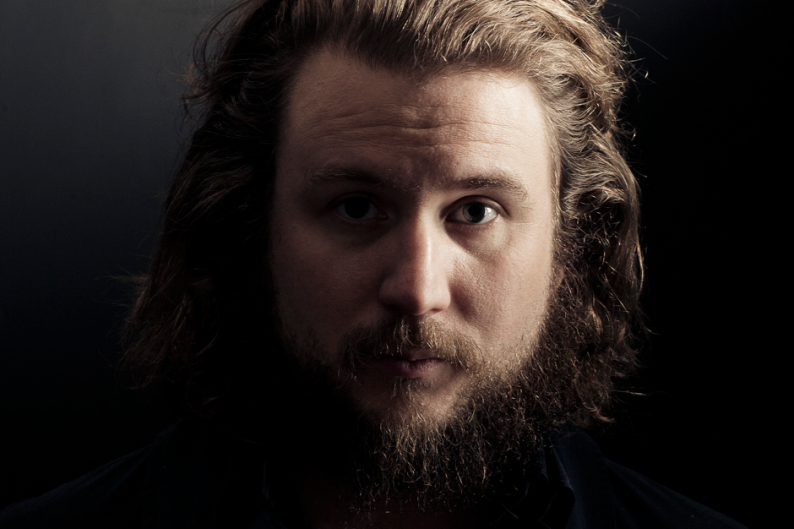 Working with Peccinotti again (he's shot multiple pieces for Chromeo over the years) was a thrill for the duo. "He's a very forward thinking erotic photographer," Dave 1 says. "He was one of the first guys to put black women in an erotic context. First guy to shoot pubic hair, nipples. Nobody did that before. He was one of the first. And his photography is very sophisticated, everything except vulgar and exploitative."
Dave 1 says fans can expect additional Peccinotti shots within the liner notes of the finished album that will tell a short narrative, when viewed together.
While French design and erotic art influenced the cover, another '80s icon — Daryl Hall of Hall & Oates — left his imprint on the music itself. After taping an episode of the soul singer's web video series, Live from Daryl's House, last year, the relationship blossomed into much more, culminating in an awesome collaborative performance at the Bonnaroo festival last month, where Hall and his band joined Chromeo to play songs penned by both acts.
"Playing with Daryl really shaped what ended up happening when we started writing Business Casual," Dave 1 explains. " We loved getting behind the science of how he wrote those tracks because he's got these songwriting idiosyncrasies that are amazing. P got deeper into piano chords. On the single, 'Don't Turn the Lights On,' I'm harmonizing the chorus. I never did that before working with Daryl."
The Bonnaroo set was such a success — "You could tell it was a dream come true," Dave gushes — that Chromeo and Hall's respective agents are trying to set up additional tag-team performances. "My idea was to do something for South by Southwest because Daryl has a history over there, we have a history over there, and everybody's going to be down there," Dave reveals. "It would give everyone a treat. We're still trying to put that together and figure out where the dates are going to be."
For now, it's just Dave 1 and P Thugg on the road together; their U.S. tour kicks off July 26 in Washington, D.C., includes stops at both the Lollapalooza and Outside Lands festivals, where the duo plans to break out something extra special: the Chromettes, aka three backup singers dressed like Robert Palmer girls.
Dave is altogether chuffed with where Chromeo's gone since they got together in 2002, and broke out on the strength of club hits like "Needy Girl" and "She's So Gangsta." "People were doubting us at the beginning since we came out in the middle of the electroclash thing," he says. "But doing working with people like Surface to Air on the artwork just adds credibility. Doing stuff with Phillipe Zdar [of French house act Cassius, who mixed the album] adds substance. Doing stuff with Daryl adds credibility. P and I are just trying to step up."
Watch the video for Business Casual's "Night by Night" below and tell us what you think of Chromeo's latest sound.
https://youtube.com/watch?v=ppNC0uAaCv0