Like all great orators — stand-up comedians, politicians, preachers, wrestlers, etc. — rappers are at their best when they're grounded in a unique point of view, an arresting way of seeing, digesting, synthesizing, and explaining the world that's somewhat cohesive at its core. The problem with Eminem as an MC at this exact moment is that like all recovering addicts, his core worldview, by necessity, is a mess.
On 2009's Relapse, his fifth solo album and first since kicking an addiction to painkillers, Eminem reverted to tried-and-true tropes from his maniacal past — celebrity bashing, rape fantasies, horrorcore schlock — in an effort to get his creativity and career back up and running. Technically, the trick worked — Relapse may be flawed, but it sold well, and as a rap artifact, it's a dizzying trip into the tightly wound mind of one of the genre's all-time lyricists. For Eminem and his camp, it seemed sufficient that he was simply working again. But after the album was critically panned by many, Em himself later backed away from the project publicly, and Relapse appears destined to go down as an artistic failure.
Now there's Recovery, Eminem's second album since cleaning up his act, and unlike Relapse, it is a lot cleaner. Not that he's gone PG or stopped spitting profanities, but the feverish nightmares have been shelved, and he's digging deeper into his past, emerging in a proper fighting stance. It's a posture that plays to his strengths. By abandoning the shock for shock's sake, he showcases his protean skills — there's still no MC more capable of rapping a circle into a square, while making you enjoy his displays of sick lyrical imagination.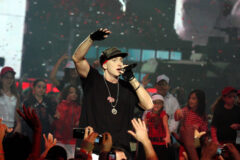 The only problem is that the battle raps, too, are a relic of Em's past, so when he bares his fangs against any and all comers on songs like "Cold Wind Blow," "Won't Back Down" and "On Fire," the effect is less king of the jungle and more wounded animal backed into a corner, unpredictable and dangerous. His admission on the self-effacing "Talkin' to Myself" that during his darkest days he considered going at Kanye West and Lil Wayne only drives home the point. Em is still in the process of reassembling his shattered personality — trying things on, throwing things away. He's unsure of who he wants to be, both as an MC and as a man — and it shows..
Though his wordplay may be tighter when he's got his guard up, or on the few occasions when he lets his Slim Shady alter ego run free ("So Bad" and "Almost Famous"), it's the more vulnerable, introspective moments — "Talkin' To Myself," "Going Through Changes," "You're Never Over," and the stadium-ready lead single "Not Afraid" — that give the album its heart. Finally, Eminem addresses his personal and professional failings head-on, rather than hiding behind a joke or inside a nightmare. It's a necessary first step in moving on.
Clearly, finding a new, fully formed, post-addiction voice is going to take time. But as the best-selling artist of the decade across any genre, and as the only major rapper to openly struggle with drug dependence in his music, Eminem potentially could speak from a fascinating and fresh perspective. And considering that we live in a society riddled with addicts, his ongoing artistic recovery could still find a huge audience. So is Recovery a classic album? No. But is it an essential one in shaping Eminem's future? Absolutely.
BUY: