For the second time in 2010, influential '70s power-pop band Big Star suffered the loss of a founding member as bassist Andy Hummel lost a two-year battle with cancer on Monday. Like frontman Alex Chilton, who passed in March, Hummel was 59.
Hummel played on the Memphis-born band's seminal first two albums — 1972's #1 Record and 1974's Radio City — both of which featured the original Big Star lineup of Alex Chilton, Hummel, drummer Jody Stephens, and guitarist Chris Bell.
Not long after the recording of Radio City, both Bell and Hummel left the band in the wake of infighting during Big Star's short career. Hummel went back to school, opting for a more conventional life, working for aviation company Lockheed Martin and residing in Weatherford, Texas, a suburb of Dallas-Fort Worth.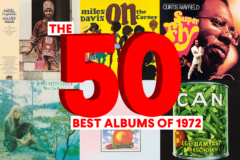 He still played music, though. According to the Dallas Observer, Hummel played in a band with friends and neighbors, performing a mix of covers and originals. His son, Drew, played drums in the band for a brief period.
Chilton died March 17, the victim of a heart attack in New Orleans. That week, Big Star was scheduled to play a reunion show at the South by Southwest conference in Austin, Texas, uniting Chilton, Hummel, and Stephens onstage for the first time since 1974.
But after Chilton's sudden death, the gig turned into a tribute concert with guest appearances by R.E.M.'s Mike Mills, X's John Doe, Norwegian singer-songwriter Sondre Lerche, She & Him's M. Ward — and Andy Hummel himself, who performed on two songs.
Stephens is now the sole surviving member of Big Star's classic lineup, with the recent passing of Chilton and Hummel, and the 1978 death of Chris Bell in a car crash.
A memorial service for Hummel will be held Wednesday, July 21, at the United Methodist Church in Weatherford.