Now five years old, Chicago's Pitchfork Music Festival shook things up a bit this year, adding a comedy stage for a day and ditching the "Never Look Back" opening night where bands played seminal albums in their entirety. Not that the three-day event was without nostalgia: Sunday night, '90s indie-rock icons Pavement played their first local show in more than a decade, and Raekwon's Saturday afternoon set definitely dipped into the well of Wu-Tang Clan classics.
That aside, this year's festival focused on the here and now, with performances by a who's who of au courant artists, from Sleigh Bells to Titus Andronicus to Big Boi to Dâm-Funk, sometimes with head-snapping shifts in dynamic. Blissful indie-poppers Beach House followed by the pummeling post-punk abrasiveness of Lightning Bolt? Here are five of the weekend's highlights:
BEST SURPRISE: THE DOMINANCE OF DANCE
2010 was the Year of the Dance at Pitchfork. It began with Robyn's Friday-evening set, which showed that what the festival needed all this time was hook-laden Euro dance-pop. The theme continued on Saturday, first with Delorean bringing big beats in the afternoon, then capped off spectacularly by LCD Soundsystem that night. Major Lazer ramped up the insanity to a ridiculous degree Sunday afternoon, bringing Chinese dragons, daggering, and lung-rattling beats to a stunned but ecstatic audience. Sure, rock acts like Titus Andronicus, Lightning Bolt, and Wolf Parade had killer sets too, but the festival's giddiest moments were the ones that made the indie-rock crowd shake their asses.
BEST WTF? MOMENT: RIAN MURPHY GOES ANDY KAUFMAN INTRODUCING PAVEMENT
It'd been a long wait for the people of Chicago to see the reunited Pavement, and the entire 2010 Pitchfork Music Festival had been leading up to the 8:30 Sunday night, when the reunited heroes of indie rock were to close the night on the Aluminum Stage. Which made the gleefully antagonistic,Tony Clifton-esque introduction from Drag City Records' Rian Murphy so funny. Taking the stage as an ostensible burned-out former DJ of local alternative station Q101, Murphy proceeded to insult Pitchfork, Lollapalooza, local radio, the audience, and the city with a barrage of sarcastic barbs that flew over the heads of most of the audience. They responded by throwing bottles (many landing on the photographers waiting for the band) and insults, before Murphy called them all "humorless pukes" and summoned the band. Pavement came out and bungled the opening of "Cut Your Hair," a shaky beginning to a set that was vintage sloppy Pavement. The band strengthened as the night progressed, playing all the hits(except, curiously, "Summer Babe (Winter Version)" from their debut, Slanted And Enchanted). By the time they exited the stage after "The Hexx," the crowd had moved past Murphy's bizarre intro and into "What, no encore?" (Nope, that's a hard 10 p.m. curfew.)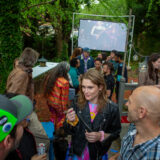 BEST MOMENT OF RESIGNATION: EUGENE MIRMAN vs. BROKEN SOCIAL SCENE
Like Bonnaroo and Sasquatch, the Pitchfork Music Festival got in on the comedy game by devoting the small Balance Stage to comedians on Friday, with Les Savy Fav's Tim Harrington acting as MC. The stage lies on the far southwest corner of Union Park, as far from the two primary stages as possible, but the sound system easily conquered the space. Not only were comedians routinely interrupted and distracted by the bands performing across the park, they also had to contend with noise from Ashland Avenue-one of Chicago's major streets-behind the stage. Most affected by it was Eugene Mirman, who battled with a surprisingly loud Broken Social Scene. A bit was interrupted by "Give it up for your hometown hero, John McEntire, on drums!" completely derailing Mirman.You could see the "fuck it" resignation on his face as he moved into some bits from his most recent album. "I bet that band's like, 'Turn the comedy dowwwnnnnnn,'" he said. And thus ends Pitchfork Music Festival's Great Comedy Experiment.
BEST "IS THIS IT?" MOMENT: PANDA BEAR
With Animal Collective currently reigning supreme as the unimpeachable lords of progressive indie music, member Noah Lennox-a.k.a. Panda Bear-has struck at the right time with his third solo album, Tomboy, due out in September. Too bad it translated so miserably on the Connector Stage Saturday evening. At their worst, Animal Collective can look like they're making it up as they go, knowing the audience will likely follow. The same phenomenon affected Panda Bear — though when it's just him, a guitar, and a keyboard stand with some gear (without his two bandmates and a light show) he didn't fare so well. Lennox opened with an interminable song that entailed holding a long, wordless vocal tone, paired with a similarly minimalist keyboard progression. The crowd waited patiently for several minutes, then the restlessness began. When it showed no signs of stopping, the texts and tweets began, with plenty of people bailing to get a good spot for LCD Soundsystem.
BEST MOMENT EVERYONE EXPECTED TO BE GREAT: "ALL MY FRIENDS," LCD SOUNDSYSTEM
With the headlining slot on Saturday night and an enormous crowd swallowing Union Park in eager anticipation for the set, it was an unspoken understanding that the place would go ballistic when LCD frontman James Murphy dropped the standout track from 2007's Sound Of Silver. That it arrived not even halfway through the set-and after "Daft Punk is Playing at My House," no less-took the crowd by surprise, not that anyone minded. Murphy's bittersweet assessment of the hipster aging process-ok, one of his many such assessments-sounded spectacularly epic and, in the context of a sold-out summer music festival, completely joyous. The Pitchfork Music Festival is notoriously quiet, so "All My Friends" could've sounded huger, but the mix was perfect, de-emphasizing the Philip Glassian piano and bringing up the bass. C'mon, James, you're not really gonna walk away from all of this, are you?