OK Go premiered a new music video today for their song "End Love," and, like their recent canon of videos, it's brightly colored, peppy, worth watching, and bound to collect hundreds of YouTube comments like "OMFG did you SEE this?!" and "Yesssss! OK Go I LOVE you!!" Watch it below.
Although not as technical as the Rube Goldberg machine-driven "This Too Shall Pass" (no NASA engineers involved this time), or as dangerous as that treadmill video, "Here It Goes Again," the group once again approaches music video production from a creative direction.
"End Love," from the album Of the Blue Colour of the Sky, features all four band members dressed in their own respective color — pink, yellow, turquoise, and red — dancing and walking around a park. Through stop-motion animation, the group magically drifts throughout the different scenes, randomly changing from fast motion to slow motion.
Ever the inventive social networkers, the band is running a special contest around the video, too, where a fan can win a custom engraved iPad from the band. Check out details here.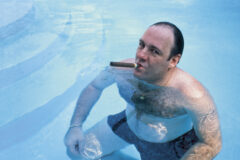 OK Go performed at Bonnaroo this past weekend and sat down for an interview with SPIN. Check it out here.
Thoughts on the new music video? Sound off in the comments below!
OK Go, "End Love"
https://www.youtube.com/embed/V2fpgpanZAw