Kate Nash has a new occupation: sexy circus ringleader.
The Brit songbird just released the music video for "Kiss That Grrrl," a track from her latest album, the SPIN-approved My Best Friend Is You — and it's a silly play on a circus sideshow, featuring the singer-songwriter dressed in a sparkling blue leotard as she tames a life-sized stuffed-animal tiger and dresses her boyfriend, Cribs frontman Ryan Jarman, in a wig.
Meanwhile, drama builds as Nash also plays the part of a sassy, jealous lover. "Having a nice time / With a girl I really don't like," she sings in the girl-group-inspired track, the second single off her new album.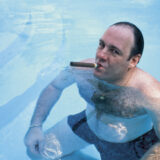 Watch the video below, then tell us what you think in the comment section.