Sunday night in Los Angeles, BET held its 10th annual awards ceremony, and while the three-hour-plus show featured performances from Alicia Keys, Eminem, Drake, and more, Chris Brown and Kanye West stole the show. Watch video below.
West opened with the live debut of his new single, "Power," making his first public appearance since his now-famous "Imma-Let-You-Finish" display at the 2009 VMA Awards. He performed from the peak of a smoldering volcano that looked straight out of Godzilla, with exaggerated lighting and bursts of smoke dramatizing his performance.
It takes a lot to overshadow Kanye, but Chris Brown's dramatic display during the evening's Michael Jackson tribute certainly did. After a brief run through Jackson's famous dance moves and a medley of his hits, Brown choked up in tears, fell to his knees onstage, and was unable to perform Jackson's "Man In The Mirror." The web immediately lit up with reactions to his performance, with responses ranging from empathy to disgust.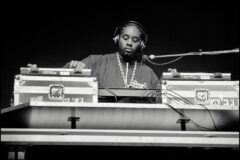 R&B crooner El DeBarge also made an appearance at Sunday night's show, returning to the stage after a 16-year absence. DeBarge's aptly-titled fifth album, Second Chance, is slated for release later this year.
Lest the performers' dramatics lead us to forget, the show went on and, yes, awards were actually given out: Rihanna took home the "Viewers' Choice" award, with Alicia Keys taking both the "Best Female R&B" and "Best Collaboration" (for "Empire State of Mind" with Jay-Z) awards. Drake won "Best Male Hip-Hop Artist" and also performed a medley of songs including "Fireworks," "Over" and his Young Jeezy collaboration "Lose My Mind" (watch below). For a full list of award winners, visit BET.
Editors' Note: These videos are no longer available.