Snow Patrol frontman Gary Lightbody has spearheaded a new collaborative album under the name Tired Pony, and he managed to recruit some real heavyweights for the project.
On Tired Pony's debut album The Place We Ran From (out September 28 via Mom + Pop), She & Him's Zooey Deschanel and M. Ward, and Editors' Tom Smith are among the featured guests playing with a band that includes Lightbody, R.E.M.'s Peter Buck and Scott McCaughey, Belle and Sebastian's Richard Colburn, producer Garret "Jacknife" Lee, and Snow Patrol sidemen Troy Stewart and Iain Archer.
Recorded during a whirlwind week in Portland, OR, the album was produced by Lee, who has worked with U2, Bloc Party, the Hives, and Weezer, among many others, and has produced the last four of Snow Patrol's six albums.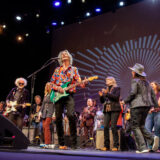 Lightbody began writing new music for The Place We Ran From during Snow Patrol's 2008-2009 international tour, and calls the results a "twisted love-letter to the States."
Snippets of each song from Tired Pony's upcoming album are available to hear now via the band's YouTube page. In addition, "Point Me at Lost Islands," an acoustic, folksy duet between Deschanel and Lightbody, is available as a free download for the next 24 hours via the band's website, in exchange for your email address. We've also posted a clip of another Deschanel/Lightbody track, "Get on the Road," below.
Give Tired Pony a ride, then let us know what you think in the comments section below!https://www.youtube.com/embed/JVGJ20P4Jzc