Mount Wittenberg Orca, the benefit collaboration between Icelandic singer Bjork and indie faves Dirty Projectors, is out today. Check out a stream of "All We Are," the EP's seventh and final track, below!
Bjork and lead Projector David Longstreth alternate lead vocals on the song, before joining one another for the haunting conclusion, where they offer a stirring line about the uniting power of love: "We looked in each other's eyes,and realized that we are only one."
The twenty-one minute, seven-song collection is the Projectors' first original material since Bitte Orca, and began as a performance piece last spring at Manhattan's Housing Works Bookstore Cafe — read SPIN's review of the show here. Bjork joined the band earlier this year to set the songs to tape.
The EP is available for download here, in exchange for a donation to the National Geographic Society's Ocean Initiative.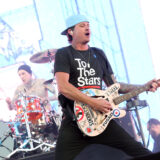 What do you think of the song?Sound off in the comments section.
LISTEN: "All We Are," Dirty Projectors + Bjork