SPIN is celebrating its 25th anniversary with a five-night music marathon this July, in partnership with ZYNC from American Express. The concerts will feature some of rock's most vital, innovative, and influential acts, including the Flaming Lips, Smashing Pumpkins, the National, Spiritualized, and the Black Keys!
The SPIN25 concerts will be held July 26-30 in New York City, the home of SPIN magazine since its beginning in 1985. Each night will feature five hours of performances, bringing 25 hours of music over the five-day period. Complimentary beverages will be provided by Vitaminwater at each event. Additional performers will be announced soon.
"More than a year ago, when we first started thinking about how to celebrate SPIN's 25th anniversary, we thought it would be cool to curate a series of concerts featuring some of the great artists that have appeared in the pages of SPIN," says SPIN magazine editor Doug Brod. "25 hours of music over five nights seemed like a nice hook, so we partnered with Bowery Presents to realize the dream. We couldn't be more thrilled with the headliners, and just wait till you see the opening bands!"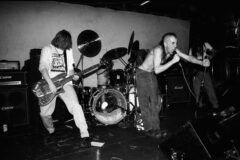 Presale tickets are no longer available. Tickets are on sale now to the general public exclusively on Zync's Facebook page.
Fans who can't attend the concerts will be able to watch them streamed live on the Zync Facebook page and on SPIN.com.
"This concert series is the best of both the old and the new world," says Malcolm Campbell, SPIN's publisher. "Not only are we helping to produce incredible live music, the cornerstone of SPIN since its inception, but we're able to broadcast it to fans all over the world with our partners at American Express on the web."