If anyone still doubts that Edward Sharpe & the Magnetic Zeros are the new Pied Pipers of hippie kids and trustafarians, they were not in the Other Tent audience on Friday.
The latest melodic mini-cult from singer Alex Ebert (formerly of Ima Robot) lured an impressively large crowd to their early-afternoon performance: Young Bonnaroo patrons in tie-dye bikini tops and board shorts spilled out from the awnings for a hundred feet in every direction, craning to see their messianic Ebert, who, for his part, seemed bewildered.
"I bet you haven't seen this on a stage yet, people onstage not knowing what to do," he said, strolling languidly among the nine other stock-still members of his folk-pop militia. "It's a new concept. People are going to start copying us."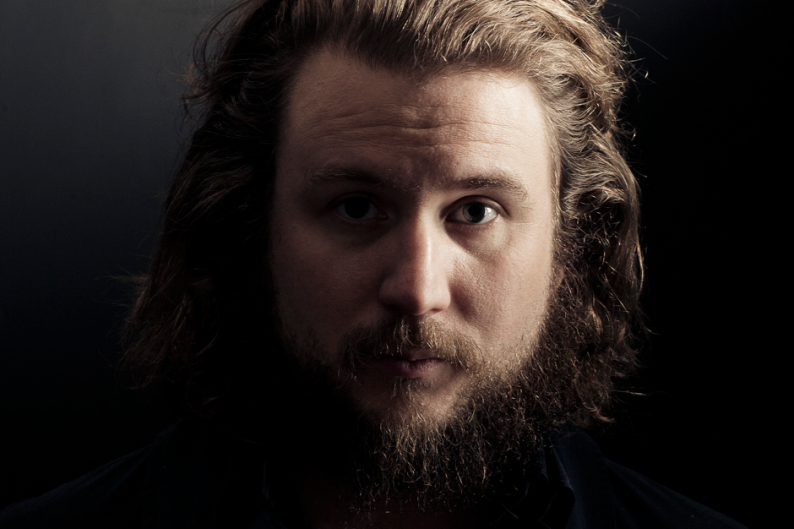 And indeed, the Zeros' set list was like a shakily construed shuffling of their 2009 LP, Up From Below. Single "Carries On" was a galvanizing centerpiece; those diaphanous, neo-psych "oooo-eeees" sounded spooky en masse, and the wistful homeward-bound lines reflected the Wizard of Oz Emerald City mural at the rear of the stage. (Ebert would make one great Manson-esque Scarecrow, if Tim Burton's gunning for a remake.)
"Carries On"'s uptempo gait broke up the hazy lull of several slower, more interchangeable folk meanderings, including what sounded like a "Jade"/"Home" mini-mashup.
Shortly after that, an amp squealed in furious protest in the heat. "Sorry we're extra-unorganized tonight," Ebert said, his speaking voice as blithely spacey as his singing. It was 3pm.
"40 Day Dream"'s lyrical entreaty of "Bitch I swear, go crazy/ She got jumper cable lips/ She got sunset on her breath" sounded nearly tender in Ebert's soft, cavernous keen, as his supporting singer and ex-girlfriend Jade Castrinos chimed in with vaguely resentful-sounding murmurs. Gradually, as more rootsy harmonies swelled beneath her, and trumpets slid in for good measure, she sounded a bit less irked.
When it came to the group's cornerstone hippie aesthetics, Ebert and his allies did not disappoint.
Appropriate to a conceptual group birthed from Ebert's idea of a modern Christ-like figure felled by mortal distractions, every one of the ten L.A.-based members looked like Venice Boardwalk laze-abouts with open credit lines at Urban Outfitters. Loose, flowing tops and Steven Tyler-worthy scarves abounded; a bare-chested Ebert frequently toyed with his blood-red neckwear, when not tangling his hands in his towering, matted hair. ("He looks like Sideshow Bob," I said to a nearby 20-something, hoping he shared the Simpsons nerdery. "Who's that? Is he that guy who teaches yoga here?" D'oh.)
DIY rainbow headdresses — ubiquitous on this year's attendees and composed of multicolored feathers, rhinestones and, on more than a few occasions, a repurposed luggage strap — bobbed throughout the horde of Zeros acolytes. Where did these come from, and will they last? The fauxhemian accessory could just be riding the tide of the Zeros' flash-flood popularity, or vice versa.