After teaming up for an intimate benefit performance at NYC's Housing Works Bookstore Cafe in May 2009, Dirty Projectors and Bjork have hit the studio and recorded a seven-song EP, Mount Wittenberg Orca, set for a June 30 release date.
The songs that appear on the album were penned by Dirty Projectors main man David Longstreth for last year's performance — which SPIN music editor Charles Aaron affectionately called the "night of a thousand shooshes," dubbing the performance "acoustically nuanced" and "elaborately voiced" — and were inspired by a trip Longstreth and bandmate Amber Coffman took to Mount Wittenberg in Northern California, where they saw a family of whales swimming in the Pacific.
"We finally got a chance to record Wittenberg last month, almost exactly a year after we first sang it," Longstreth tells Stereogum's Brandon Stosuy, who facilitated the Projectors/Bjork collaboration in the first place. "We went into the Rare Book Room in Brooklyn and rehearsed it for three days, then we recorded it as quickly and as live as possible. We only overdubbed lead vocals and a guitar solo."
All proceeds from the album will go towards the creation of international marine protected areas, in cooperation with the National Geographic Society. The album can be pre-ordered here.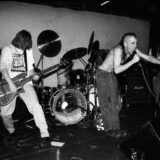 Mount Wittenberg Orca tracklisting:
1. "Ocean"
2. "On and Ever Onward"
3. "When the World Comes to an End"
4. "Beautiful Mother"
5. "Sharing Orb"
6. "No Embrace"
7. "All We Are"
Prior to the news breaking this morning, SPIN.com received a cryptic video clip from the Projectors about the project. Watch it below.
WATCH: