6 Best Moments of the Roots' Picnic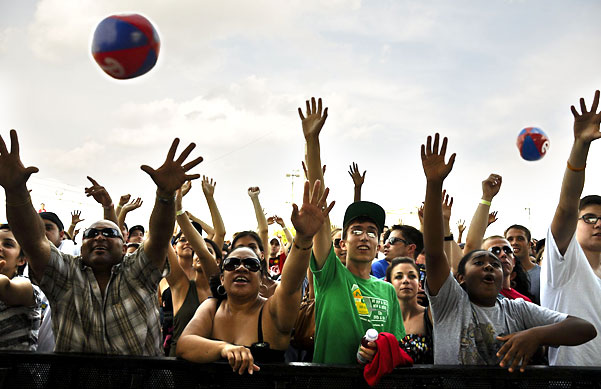 For the past three years, the Roots -- legendary hip-hop group and the house band on Late Night with Jimmy Fallon -- have hosted a one-day, two-stage music festival on the Delaware River waterfront in their hometown of Philadelphia. The Roots Picnic, as it's called, always offers an eclectic lineup of artists from all ends of the musical spectrum -- and 2010's installment (held Saturday, June 5) didn't disappoint with a bill ranging from Vampire Weekend to satirical hip-hop outfit Das Racist to experimental one-girl-band tUnE-yArDs. -- ANNA HYCLAK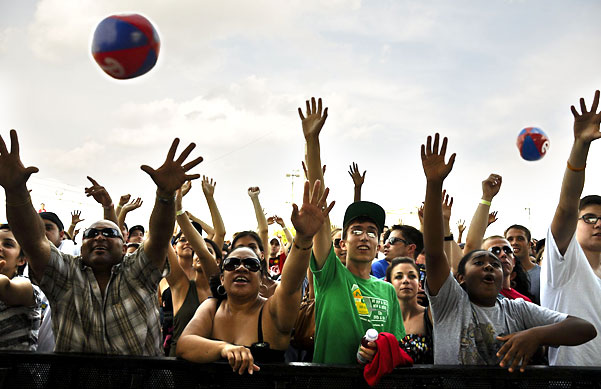 For the past three years, the Roots -- legendary hip-hop group and the house band on Late Night with Jimmy Fallon -- have hosted a one-day, two-stage music festival on the Delaware River waterfront in their hometown of Philadelphia. The Roots Picnic, as it's called, always offers an eclectic lineup of artists from all ends of the musical spectrum -- and 2010's installment (held Saturday, June 5) didn't disappoint with a bill ranging from Vampire Weekend to satirical hip-hop outfit Das Racist to experimental one-girl-band tUnE-yArDs. -- ANNA HYCLAK
3.BEST SUBTLE DIG IN THE "NEW YORK VS. PHILLY" DEBATE: WU-TANG CLAN
3/8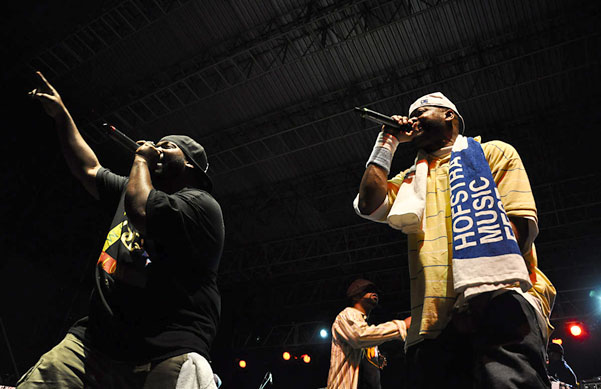 Three members of the Wu-Tang Clan -- Method Man (above center), Raekwon (left), and Ghostface Killah -- joined the Roots onstage during the second part of their two-hour set, and naturally the crowd went crazy. There were plenty of memorable moments, from the surprise cameos from Philly-born rappers Beanie Sigel and DJ Jazzy Jeff to Method Man's insane crowd surfing. But in between the dancing, rapping, and mayhem, Ghostface found time to give a little speech. "If I wasn't from New York, I wouldn't mind being from Philly," he said, before listing off some of the city's great artists and athletes, including Phillies slugger Jayson Werth and the Flyers, who are playing in the Stanley Cup. However, it quickly became apparent that there's one icon the City of Brotherly Love lacks: Wu-Tang Clan.
4.BEST RESPITE FROM THE HEAT: DAS RACIST
4/8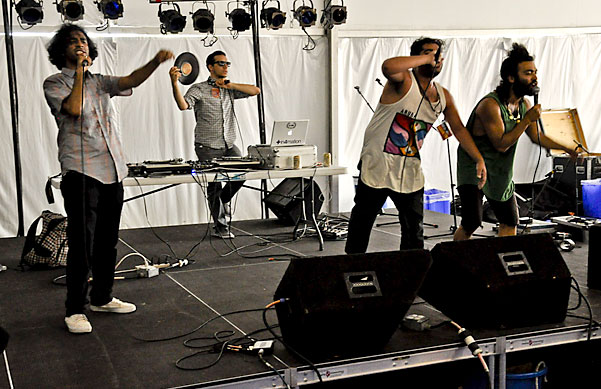 The boys of hip-hop outfit Das Racist know how to keep things cool at a music festival. During their mid-afternoon performance on the Tent Stage -- which gave fans a shady reprieve from the sun -- Victor Vazquez (above, far right) wore his microphone cord wrapped around his neck like a noose, hype man Ashok "Dap" Kondabolu (left) shook like he was having a seizure onstage, and Himanshu Suri (second from right) threw strips of duct tape at the audience. Chugging beers and sometimes jumping into the crowd in front of them, the rap trio (and one DJ) spit lyrics like, "Shorty said I look like Osama, plus Obama, minus the drama," and generally poked fun at themselves and everyone around them ("We're the Roots!" they joked enthusiastically when they first walked onstage).
5.MOST TOUCHING SHOUT-OUT: QUESTLOVE
5/8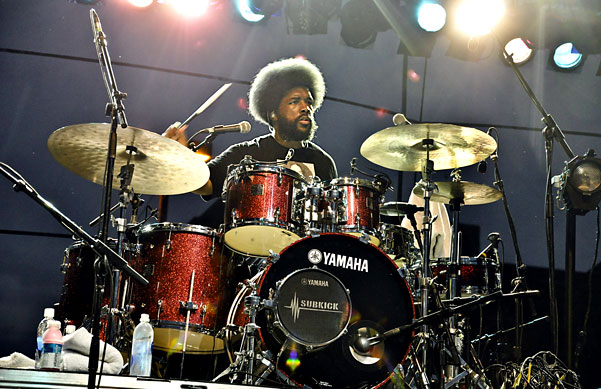 After rocking out to old-school hip-hop classics with DJ Jazzy Jeff during their early evening DJ set at the Tent Stage, Questlove took a moment to pay tribute to Sabina Rose O'Donnell, a 21-year-old girl who was murdered not far from the festival's venue on June 2. "Philly has to stop this shit," he said, before asking festivalgoers to donate money to the Sabina Rose O'Donnell Fund to help pay for the girl's funeral expenses and for a reward to offer anyone with information leading to the arrest of her killer. It was a somber moment, but one that resonated with many of the locals in attendance.
6.MOST DELIGHTFULLY "WTF?" PERFORMANCE: tUnE-yArDs
6/8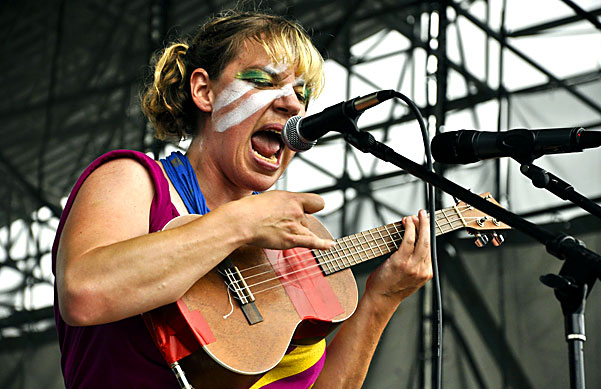 When Merrill Garbus -- otherwise known as experimental folk-meets-Afropop act tUnE-yArDs -- took the stage and began to howl, the not-quite-buzzed-yet crowd wasn't sure how to react. Decked out in war paint, Garbus wielded her ukulele like some sort of tribal weapon and let out a series of animal cries that wouldn't sound out of place on the Discovery Channel. "Is she for real?" one concertgoer asked. But soon, even the skeptics were shaking their hips as Garbus performed such songs as the noisy, Swahili-influenced "Hatari," banging fiercely on a set of drums and using a loop pedal to recreate the fuzzy, layered sound of her debut album, BiRd-BrAiNs.
7.BEST POLITICAL STATEMENT: THE ROOTS WITH JOHN LEGEND
7/8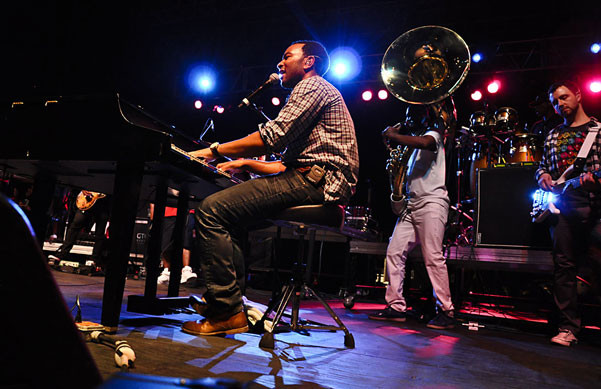 The Roots originally planned to perform with Run-D.M.C. at this year's Picnic Fest, but when that feel through, the band recruited another music legend for their set: John Legend. As thousands of cell phone cameras flashed, the charismatic crooner joined the Roots to perform a series of politically charged covers, like Donny Hathaway's "Little Ghetto Boy." The crowning moment came during their passionate rendition of Bill Withers' classic anti-war anthem, "I Can't Write Left-Handed," as Legend cried out painfully, "He done shot me in my shoulder!" and an electrifying solo from Roots guitarist Cap'n Kirk brought the beautiful, soulful tune to a close.
8.BEST LATE-NIGHT ENERGY KICK: VAMPIRE WEEKEND
8/8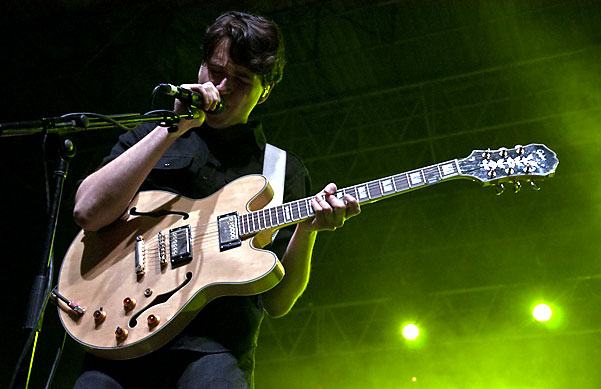 By the time Vampire Weekend took the stage -- just a little past 11 P.M. -- the crowd was exhausted. It had been a long, hot day, and the Wu Tang Clan's frenzied performance inspired so much jumping up and down that most remaining fans were experiencing a serious case of rubber legs. Lead singer Ezra Koenig must have noticed, because he thanked everyone for sticking out the heat, adding, "You know, dancing isn't required -- but it is recommended." Despite exhaustion, the audience acted on his suggestion, bopping halfheartedly at first, and then launching into full-out thrash mode by the time the first chords of "A-Punk" struck. Energetic performances of "Cousins," "Oxford Comma," and "Giving Up the Gun" were like a giant dose of caffeine, yanking the audience out of their sunburned funk and spinning them into motion. The band ended the set rather abruptly, though, after a high-speed version of "Walcott," sending the now-amped crowd towards Philly's Fluid nightclub, where Questlove was set to DJ the festival's official after-party.