When it comes to blood and gore, Trent Reznor and his wife Mariqueen Maandig's new band, How To Destroy Angels, are giving M.I.A's genocidal new video some fierce competition.
The band just released their new clip for "The Space in Between," from their self-titled six-track EP, out this summer, and it's a total horror show: the newly-wed couple are found murdered, laying face-down in a pool of their own blood in a hotel room, where they're soon set ablaze. Yowsa. Watch below.
The song, a NIN-esque affair with brooding electro beats, buzz saw guitars, and atmospheric flourishes, only expounds on the video's ominous vibe. In the clip, ex-West Indian Girl frontwoman Maandig, whose corpse is propped up on a blood-soaked bed, next to her hubby, sings the frightening ballad: "All the blood lying on the floor… / Arms entwined in a final pose / Narrative drawing to a close." The flames soon engulf her, melting the skin off her gorgeous face, while a man and woman (presumably the perpetrators) sit on a couch, smoking cigarettes and watching their victims burn.
What do you think of How to Destroy Angels' new video? Tell us in the comment section below!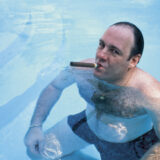 WATCH: How to Destroy Angels' "The Space in Between"
https://www.youtube.com/embed/nWbfgGDl6XE