New Jersey's Steel Train play Americana-tinged indie rock that's worlds away from the synth pop of London's La Roux — but their acoustic cover of the English duo's 2009 hit "Bulletproof" totally hits the spot anyway. Watch it below!
The video — recorded at an intimate party held at the Lacoste Coachella house in the California desert — depicts the band in a low-key living room, playing around with the catchy song on acoustic guitars, shakers, and xylophone for a minutes, before getting into it for real.
Steel Train singer Jack Antonoff says he was floored by La Roux's Coachella set, and that the band collectively calls La Roux singer Elly Jackson a fashion icon. But it's not so unexpected that Steel Train would cover La Roux — the band recorded a studio version of "Bulletproof" as the B-side to their limited edition "Turnpike Ghost" 7-inch, released on Record Store Day, April 17.
The band recorded the song to create awareness for the Voice Project, a non-profit aiming to create awareness of, and raise money for women in Northern Uganda. Teaming with Lacoste at Coachella, the Project captured several bands performing cover songs — with Anna Gabriel (Peter's daughter) behind the camera.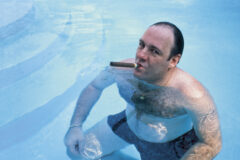 It's not the first time an indie rocker has unplugged on "Bulletproof" for SPIN — click here to catch Dinosaur Jr.'s Lou Barlow covering the track at the SPIN offices last fall.
Steel Train's upcoming self-titled record drops June 29 on their label, Terrible Thrills. Check out their La Roux cover, and let us know what you think in the comments below.
For more information on the Voice Project, and how you can help, click here.
WATCH: Steel Train, "Bulletproof"
https://player.vimeo.com/video/11236513