Los Angeles quartet Silversun Pickups just released their new music video for Swoon single "The Royal We," and if it reminds you of the classic videos from the 1990s, well, there's good reason.
For the new video, Silversun Pickups recruited director Matt Mahurin, the man behind some of the most iconic clips from the '90s: Metallica's "Unforgiven," Alice in Chains' "No Excuses," Soundgarden's "The Day I Tried to Live," and others from R.E.M., U2, Cowboy Junkies, and more, all of which have a few commonalities: blurry images, slow-mo footage, loose and arty narratives, and close-ups of disturbing characters, like toothless old men.
The video for "The Royal We" achieves the same bizarreness and simplicity with repeated close-ups of the band's members spliced with blurry colors, rippling camera effects, and flashes of surreal imagery: giant scissors sticking into a garden, floating flowers, and a person with a castle for a head.
Paired with the tune's lush and screeching guitars, and frontman Brian Aubert's desperate questioning –"How many times do you want to die?" — "The Royal We" video is one trippy blast from the past.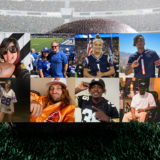 Watch "The Royal We" video below, and to see Silversun Pickups perform acoustic at SPIN HQ, click here.
WATCH: Silversun Pickups, "The Royal We"