From the moment we watched Gym Class Heroes frontman Travie McCoy unveil his solo material at this year's SXSW, we knew we had to hear more. So, we invited him — and a posse of pals, including up-and-coming singer/songwriter Bruno Mars — to drop by SPIN's NYC office for a chilled out afternoon jam session. Watch the videos below!
Playing before an audience of SPIN staffers — and online viewers in our first-ever live SPIN Sessions webcast — McCoy and Mars opened with "Billionaire," the first single from McCoy's solo debut, Lazarus (out June 8).
Supported by Gym Class Heroes drummer Matt McGinley on percussion and Philip Lawrence on backing vocals, Mars teased a bit of the classic Motown hit "Money (That's What I Want)," then strummed the lazy, tropical rhythm to "Billionaire" on an acoustic guitar and seductively crooned the chorus, while McCoy dropped rhymes about providing for his family and collecting that cheddar.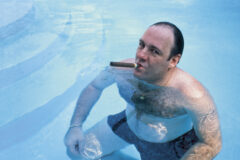 Next, the quartet played "Dr. Feel Good," another Lazarus cut, with Mars handling the vocal hook that Cee-Lo Green sings on the album. It's a shimmering summer jam, laced with a delicious, disco-tinged guitar riff and upbeat energy, and even without the glitzy studio production, it was a head-bobbing winner.
While McCoy is already a star, Mars seems poised to reach the big time, too. His guest spots during Travie's two songs were charming, and then he delivered a sensitive take on his own cut, "Somewhere in Brooklyn," off the just-released EP, It's Better If You Don't Understand. We look forward to hearing more!