The crowd was ready for Mardi Gras in May when Of Montreal started its summer tour in New Orleans Saturday night. Fans wore Indian headdresses and warpaint, and there were a number of psychedelic variations on street clothes as well, including one guy who fashioned horn-rimmed glasses from glow sticks.
The band, however, missed the memo. Singer Kevin Barnes did wear makeup and a Jetsons-like shirt with a high, sci-fi collar, but Of Montreal's set at the Howlin' Wolf wasn't the theatrical experience many fans expected.
This night, Of Montreal was a rock band, bringing to mind modern glam incarnations such as Suede, complete with guitar heroics. During the encore of "She's a Rejecter," Barnes even adopted a few guitar hero poses with his white Gibson SG. Throughout, he and guitarist Bryan Poole added muscle to the band's dance rock, juicing the energy without losing the disco bounce.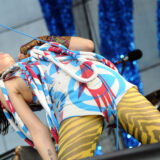 Theatrics were kept to a minimum. There were the usual video screens with psychedelic animations, but Barnes never changed costume and rarely got involved in the bizarre love triangle that was a motif running throughout the show, as two male dancers in Christian and pagan disguises competed for the affection of a female dancer. Their drama largely took place independently of the band, though Barnes battled onstage with three puppets dressed like Jabbawockies from America's Best Dance Crew during "Faberge Fall for Shuggie."
Fans who've seen the YouTube video of the band's New York City appearance when Susan Sarandon joined them onstage hoped that her presence in New Orleans for a movie shoot might inspire a repeat performance, but no such luck.
Nor did Barnes adopt the persona of Georgie Fruit, the African-American cross-dressing character he portrayed during the Skeletal Lamping tour. In fact, he rarely spoke between songs. He gave a shout-out to Erykah Badu — no surprise considering her provocative video for "Window Seat."
"She's the best," he said simply.
Barnes did introduce one song, "Coquet Coquette," as being from the band's upcoming album, False Priest, and it continued where 2008's Skeletal Lamping left off exploring sexual politics. "I don't want to come to some other guy's place to do your eyelids," he sang.
More often than not, though, the show presented Of Montreal at its most butch, musically and lyrically. Barnes still sang "For Our Elegant Caste" (with the line "You should know I take it both ways") and "St. Exquisite's Confessions" (which starts, "I'm so sick of sucking the dick of this cruel cruel city"), but without the sexually provocative touches such as appearing onstage in red paint and little else, as was the case the last time the band played the Howlin' Wolf.
But the restrained (by their standards) theatrics didn't seem to disappoint the near-sellout crowd. The night was still sexy, as Indians danced with glamor girls and flamboyant boys during a set that relied heavily on Skeletal Lamping and Hissing Fauna.
If the band wanted to prove that it can stand on its own, it succeeded, which meant that instead of Fat Tuesday, we got a dance party.