Metal fans of the world rejoice: The June 22 date of this summer's Big Four Tour — the seven date European jaunt starring heavy hitting heavyweights Metallica, Slayer, Megadeth, and Anthrax — will be broadcast via satellite in high definition to movie theaters around the world.
More than 800 theaters — including 450 in the U.S. — will carry the telecast of the tour's stop in Sofia, Bulgaria. There's a full listing of participating theaters on the tour's official site. Tickets for U.S. screenings went on sale today and can be snapped up here.
"Who would have thought that more than 25 years after its inception, thrash metal's big four would not only still be around and more popular than ever, but will now play together for the first time," Metallica drummer Lars Ulrich gushed about the tour. "What a mindfuck! Bring it on!"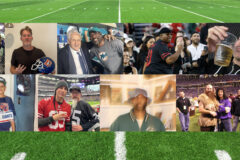 For fans who want to see the tour live and in person, it begins June 16 in Warsaw, Poland, and wraps June 27 in Istanbul, Turkey. Check Metallica's site for tour dates.
No plans for a U.S. leg of the Big Four Tour have been announced, but Slayer's Kerry King wants it to become a reality. "I hope the Slayer/Megadeth tour is a precursor to the Big Four coming to the States," King told Blabbermouth. "That tour it should be everywhere: here, Australia, Japan. Any place that wants it should have it and it should happen."