Chicago rockers OK Go like to keep themselves in shape (see their Grammy winning treadmill video for "Here It Goes Again") but they also care about the environment.
Frontman Damian Kulash and bassist Tim Nordwind are currently touring behind their SPIN-approved album Of the Blue Colour of the Sky, and found time to sit down for our series of exclusive video interviews, presented by SunChips and the company's new sustainable initiative. Watch the video, complete with concert footage, below!
Turning off their tour bus generators and using recyclable materials like biodegradable cups are just a few of the things the band does to reduce their carbon footprint. Although when it comes to composting, Kulash jokes, "It smells on our bus sort of like people are composting already, but we compost at home."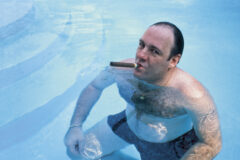 OK Go recently worked with "art nerds, nerd nerds and tech nerds" sinlab, to construct a monumental Rube Goldberg machine for the "This Too Shall Pass" music video. "What we want to do with our videos is have a short burst of feeling; to give you a cool little world to live in for three minutes," said Kulash in a recent Q&A with SPIN.
As far as making a living in the evolving music industry, Kulash believes in reworking what you already have: "There's plenty of ways musicians can still survive, you just have to start conceiving everything a totally different way," he says. OK Go, for example, records their live shows and converts them to USB drives the fans can take home with them. See their full tour itinerary on the band's site.
Kulash's last words of advice: "Start your own band — and also compost!"