"Funworks: The magic of fun" read the sign outside the gates to this past weekend's All Tomorrow's Parties fest. And try as you might to remain shrouded in your hoodie of indie-rock angst, you simply couldn't escape the barrage of fun that marked the latest edition of ATP, curated by Simpsons creator Matt Groening (who said of the endless photo opportunities to which he graciously endured: "If this is a theme park, I'm Mickey Mouse").
Fun came at you from all directions, beginning with the facility itself. Butlins is a classic British holiday camp located in Minehead, a coastal town on the Bristol Channel some three hours west of London. Its centerpiece is a large tented facility containing three stages, a couple of discos, some of the world's best beer, and countless garishly lit amusement machines eager to separate you from every last coin in your pocket.
Since 1999, ATP has evolved into a trusted production brand by embracing indie eccentricity, eschewing corporate sponsorship, and delivering dependably ear-expanding events cherry-picked from rock's most elusive fringes by tastemakers like Tortoise, Autechre, and Thurston Moore. But it has bottom-line responsibilities, too; hence the high-profile, Butlins appearances by local heroes the XX and Iggy and the Stooges, fresh off their introduction to the Rock and Roll Hall of Fame, and playing with original guitarist James Williamson, who rejoined the band following Ron Asheton's passing.
Groening's TV shows and comics are mostly about fun; but it's an eccentric, subtly subversive fun, the kind that celebrates, mocks, and, eventually, overwhelms more mainstream franchises like Butlins icons Bob the Builder and Thomas the Train. Groening's work exults in its outsiderhood while struggling for worldwide domination. Which is why his more inspired choices focused on a couple of musical realms so mass as to often be invisible to your typical nerdy white indie-rock male: Africans (including Konono No. 1, Toumani Diabate, and Amadou and Mariam) and women (including punk icons the Raincoats and Slits co-founder Viv Albertine).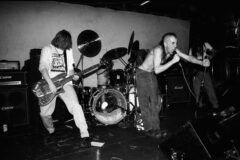 The three-day buffet began with acoustic-guitar alchemist James Blackshaw and concluded with stereotype-eluding sisters CocoRosie. And, once the highly addictive local draught cider wore off, these memories remained.
Most Transcendent Fun: Boredoms:
Japan's Boredoms exorcised the holiday camp with not one but two performances of "Boadrum" (a.k.a, Boredoms + boa + drums), their adaptable ritualistic work for any number of drummers arranged in a serpentine spiral. This version included a half-dozen percussionists (down from the 88 the piece originally employed) pounding alongside Yamantaka Eye, who alternated between screaming in tongues and pounding on a tree-shaped rack of guitar necks. "Boadrum" begins where most concerts peak and ascends heavenward from there.
Most Ear-Opening Fun: Toumani Diabate's Symmetric Orchestra
This Malian instrumentalist remained the calm epicenter of a raging storm of polyrhythms as audience members smiled in delighted discovery. Diabate's music and instruments (which included a twenty-one-stringed kora, a two-stringed guitar called an ngoni, and a rustic wooden marimba alongside electric guitars) were mostly traditional, but the sensibility was urban, propulsive, and most definitely danceable.
Most Pleasantly Surprising Singer-Songwriter Fun: Jill Sobule
Few artists have benefited more (or more justifiably) from a case of mistaken identity than this smart, funny American troubadour, the title of whose 1995 semi-hit "I Kissed a Girl" was recycled by Katy Perry in 2008. Sobule's the far more interesting singer, as she demonstrated on cunningly caustic songs like "The Rapture" and "Mexican Pharmacy," and the weekend's second craftiest singalong choice: "All the Young Dudes" (the Raincoats' version of "Lola" took the prize).
Darkest Fun: The Residents
In the hands of these Bay Area conceptualists, a performer dressed as a bald, elderly man wearing a giant polka-dot tie, baggy red underwear, and floppy clown shoes can be harrowingly grim. The enigmatic, masked Residents illuminated their blackly amusing ghost stories-about agingand the inevitability of death-with loud, portentous electronic chords and deliciously off-kilter guitar solos. They encored with a melodramatic, decelerated take on "a song loved by dead cowboys everywhere": "Bury Me Not on the Lone Prairie."
Perkiest Metal Fun: Shonen Knife
The happiest Japanese female alt-pop-punk trio around, Shonen Knife have reveled in tart melodies and hard, impeccably pounded rhythms for almost 30 years. It all came together here in "Muddy Bubbles Hell," a song about sulfurous natural springs, inspired by (according to leader Naoko Yamano) the '70s metal bombast of Judas Priest and Ronnie James Dio.
Most Distorted Congolese Fun: Konono No. 1
Formed more than four decades ago by leader Mawangu Mingiedi, who cobbled together their amplified thumb pianos (called likembes), microphones, and PA system from junk and scraps, Konono plays the traditional trance groove of Mingiedi's home village in the Democratic Republic of Congo's hinterlands. Their music is both deep and ritualistic and, on some level, reminiscent of the Boredoms. (But if you thought a last-minute show blending both groups would be a natural, think trainwreck instead. Alas.)
Most Bombastic Fun: Spiritualized
Jason Pierce managed to almost single-handedly cock-block the Konono/Boredoms jam with his opening blast of guitar feedback. But all was forgiven about 30 seconds into his band's recreation of its 1997 space-rock masterpiece, Ladies and Gentlemen We Are Floating in Space. Horns, strings, and a church choir transformed Butlins into a psychedelic gospel tent for nearly two hours.
Most Decadent Fun: Tiger Lillies
This London trio have already scared many a British child with Shockheaded Peter, an opera about the consequences of misbehavior. Their saw, Theremin, and high-pitched, clown-faced singer fit right in with ATP's carnival atmosphere, though their dark and deviant songs about crucifixion, masturbation, gin, heroin, and cocaine were wholly their own.
Most Fun You Couldn't Wait to Enjoy Back Home: Ponytail
Ubiquitous on the East Coast for much of last year, this musical sack of cats danced their mess around with giddily infectious delight. Lacking a bassist, following recent garage-punk convention, Baltimore's Ponytail relied instead on a pair of fleet-fingered guitarists to speed them down the runway. The focus, however, is on the utterly intoxicating singer Molly Siegal, a poverbial force of nature, who bounces around the stage like your younger brother after a Ritalin overdose.