T.I. is out of prison and back in the rap game — and boy, oh boy, did he miss the cars and the cash.
The Atlanta rapper has just premiered the video for "I'm Back," his aptly-titled first new track since his March release from federal prison, and in the clip the man born Clifford Joseph Harris, Jr. is getting reacquainted with the life of luxury: he rides around the ATL in a Ferrari (with wads of cash in the trunk), while donning a glitzy Rolex watch, sunglasses and of course, a whole lot of necklace bling. Watch the video below!
"I'm Back" is also the first taste of T.I.'s upcoming album King Uncaged, scheduled to drop on August 17. The track features bass-heavy beats and a more intense feel than the rapper's R&B-tinged singles. "This album is different in many ways. I think that Paper Trail was a lot more about thoughts; this is more about feelings. This is significantly more aggressive," said T.I. in an interview posted on his website. "At this point, right now, it's going hard."
Watch "I'm Back" below, then tell us what you think about T.I.'s return in the comment section.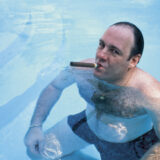 T.I., "I'm Back"
https://www.youtube.com/embed/w8z_5ZtPzWI