When cerebral indie-punk rocker Ted Leo recently stopped by SPIN's downtown NYC office for an acoustic performance in our SPIN Sessions series, the New Jersey-based songwriter offered up something borrowed and something new. Watch the set below!
In the "borrowed" department, Leo chose to play "Hung Up," a soulful 1993 cut by Paul Weller, the politically-minded man behind the Jam and Style Council. Earlier that day, Leo had chatted with Weller, one of his heroes, for a SPIN magazine feature that appears in our April issue (on newsstands now).
"I was lucky enough to have had people like Paul already make the connections between punk and soul when I started getting into music," Weller said. "That was extremely important to me."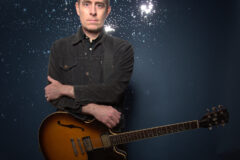 Leo also uncorked two songs off Leo's just released, SPIN-approved album, The Brutalist Bricks. Not a stranger to SPIN office performances — Leo did a solo electric set back in '04 when Shake the Sheets came out — the rocker tested the durability of our house guitar with the muscular chords of Bricks' opening track, "The Mighty Sparrow," before slipping into the softer shimmy of "One Polaroid a Day."
Watch Leo's videos below, and tell us what you think of his set in the comments section.