Slash and Wolfmother guitarist/vocalist Andrew Stockdale turned the volume way up on The Tonight Show With Jay Leno Tuesday night.
The duo — supported by a three-piece band — ripped through by "By The Sword," the lead single off the ex-Guns N' Roses shredder's debut solo album, Slash (out now), with a bearded Stockdale's high-pitched vocals wailing over a frenzy of guitar riffs — the polar opposite from Wolfmother's recent acoustic set at SPIN HQ.
The performance is just the latest in whirlwind of appearances the top hat-sporting guitarist will make in support of Slash in the coming months, including an April 10 gig at the Roxy in Los Angeles and a sold-out May 22 set in Atlantic City, NJ.
Slash recently spoke to SPIN.com about the new record, which features an all-star cast of collaborators, also including Ozzy Osbourne, Iggy Pop, Kid Rock, Fergie, and Dave Grohl. "We'd work out the arrangements together, but that person got to write whatever lyrics they wanted to," Slash said of writing the album. "Some people came down to my studio in L.A. and sang their parts. Other people did it remotely. So it was very stitched together."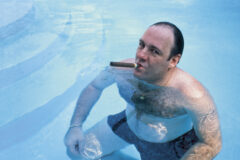 Watch the video performance of "By the Sword" below, then tell us what you think in the comment section.
WATCH: Slash, Stockdale "By the Sword"
https://www.youtube.com/embed/u_wJnvROGNo