When Silversun Pickups played a gig at our old New York City office, the fully electric affair racked up a record number of noise complaints — and was awesome. Their most recent visit to our new Manhattan office, on the other hand, was a quieter, acoustic session, but no less compelling. Check out the videos below!
Taking a break from their U.S. arena tour opening for Muse, singer-guitarist Brian Aubert and bassist Nikki Monninger played three songs off last year's solid sophomore set, Swoon, plus "Lazy Eye," their breakthrough hit from 2006's Carnavas.
Without the multi-layered guitar effects that characterize the band's sound in the studio and onstage, Aubert's songs possessed an unexpected sensitivity. The softer guitar tones and the increased audibility of Monninger's backing vocals made for a gripping juxtaposition to Aubert's urgent screams on "The Royal We" and "Lazy Eye."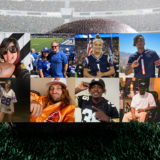 Watch the videos below, and tell us what you think in the comments section.