Nu metal pioneers Korn, whose lineup is now down to just three of its original members, are ramping up for the release of their ninth album, Korn III — Remember Who You Are, this June. They took the wraps off what's expected to be the new record's first single, "Oildale," at a gig in Utica, New York, last week. Watch video below (via Blabbermouth).
Sonically, "Oildale" feels more grandiose than much of the Korn canon, channeling the epic, old school metal of Black Sabbath and Judas Priest and eschewing any rapping or shouted parts. Frontman Jonathan Davis' vocals sound in top form, and the chugging combo of Fieldy's slap bass and James "Munky" Shaffer's jagged riffs is also intact.
Last week, the band announced a new record deal with Roadrunner Records, which will drop Korn III, their first studio effort since 2007's untitled album, which bowed at No. 2 on the Billboard charts.
Check out the video below, and tell us what you think of the new song in the comments section.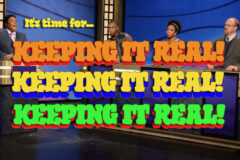 And check out Korn's first appearance on the cover of SPIN in 1998 just underneath the video player.
WATCH: Korn, "Oildale"
https://www.youtube.com/embed/CfE1UMZS51g