It was a happy 4-20, indeed, last night at the Hollywood Palladium, where a sold-out crowd gathered to watch 21-year-old singer Rome Ramirez front a mostly reunited Sublime. It was the first stop on the band's inaugural tour, and the audience was in a celebratory mood.
"You guys fuckin' stoned or what?" asked Rome between songs. "'Cause it smells real good in here."
Indeed, the inside of the old Art Deco theater seemed tinted green. Of course, the band offered every incitement, opening with "Get Ready," which includes the classic couplet "Load up the bong / Crank up the song," as well as that line about pulling out a nine and "letting one slip." Thankfully, people came with pot instead of firearms, because the response was near universal.
In case there was any question about what day it was, the band's second song was "Smoke Two Joints," and it was greeted in kind. Smoke billowed over the crowd as if Sublime with Rome was playing to a foundry floor. At least they'll save money on fog machines.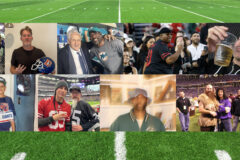 As the affable singer spent the show beaming out at the audience in what looked like a mix of awe and admiration for his newfound gig, Sublime's notorious rhythm section rocked the same as it always has. Bassist Eric Wilson was a shades-wearing, stoic wall of a man topped off with a trucker hat, and drummer Bud Gaugh sank into his stool, appearing to merge with his kit.
The band was exceedingly tight and Rome, also a gifted guitarist, had the chops to keep up. Though his voice lacks the sandpaper that the late Bradley Nowell's had, he snarled his way through "Seed," adroitly skank-rapped the verses of "Wrong Way," and crooned mightily on "Don't Push." And of course, he had plenty of help from the floor.
Each song brought a new round of Bic flickers and exhaled vapor, not to mention a new crush of fans trying to get closer to the action. The band spent equal time on Sublime's 1992 debut, 40 Oz. to Freedom, a fan favorite, and the group's quintuple-platinum 1996 self-titled LP.
They also debuted a new song, a ska-punk number called "Panic," and dipped into 1994's Robbin' the Hood for a fitting rendition of "Greatest Hits." Jimi Hendrix send-up "Under My Voodoo" soared, while the Grateful Dead-inspired "Scarlet Begonias" felt like a cool breeze.
The only conflict came with matching Rome's young, untroubled face to Nowell's lyrics. One gets the feeling this kid's life is far less the stuff of these songs: bad sex, drug use, smelly vans, gun ownership, and legal woes. The great Nowell brought unpredictability to the band — sometimes for worse — but that was part of Sublime's charm.
Until Rome has a chance to establish his own identity within the group, he'll have to bear the comparisons to his beloved predecessor. But he's off to a great start.
SET LIST:
"Get Ready"
"Smoke Two Joints"
"Seed"
"Jailhouse"
"Wrong Way"
"Don't Push"
"Garden Grove"
"New Thrash"
"Badfish"
"Let's Go Get Stoned"
"Panic"
"40 Oz. to Freedom"
"Greatest Hits"
"Under My Voodoo"
Encore
"The Ballad of Johnny Butt"
"What I Got"
"Scarlet Begonias"
"Gimme My Share"
"Santeria"