Spoon dropped by Jimmy Kimmel Live last night, en route to this weekend's Coachella festival, performing Transference tracks "Is Love Forever" and "Who Makes Your Money" — the latter backed by current tourmate and Deerhunter/Atlas Sound frontman Bradford Cox. Watch it below!
Cox mostly kept to the background, while Spoon frontman Britt Daniel — who graced SPIN's April cover, along with Gerard Way and Billie Joe Armstrong — crooned along, bouncing around the massive outdoor stage sans guitar. But he did make time for some playful back-to-back action with Cox (around the 1:54 mark, if you're fast-forwarding).
It's not the first time Bradford Cox has joined Spoon on stage. In 2008, Cox joined the Texas rockers for "Mountain to Sound" at the Pitchfork Music Festival. (Watch it here.)
Spoon released Transference in January, and played Conan soon after. Since their tour with Deerhunter kicked off in February, the bands have hit everywhere from Europe to New York's Radio City Music Hall and the West Coast. Both bands play Coachella on Sunday, prior to headlining sets from Pavement and Gorillaz.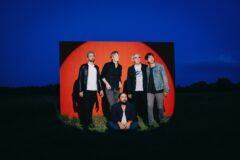 WATCH: Spoon with Bradford Cox, "Who Makes Your Money"