A small press conference last night at a London pub by British rockers the Libertines turned into an impromptu gig, with Pete Doherty and Carl Barât performing a few songs off their previous records. Check out a video of the band performing "Death on the Stairs" below!
The Libertines — consisting of Doherty, Barat, John Hassall and Gary Powell — split in 2004 due to differences between co-frontmen Doherty and Barât, but last night at London pub Boogaloo, the two appeared chummy, singing and joking together through their tossed off but engaging set.
The guys played a few covers and tracks from their 2002 SPIN-praised debut Up the Bracket and 2004's self-titled follow-up — their last effort before the group imploded. Doherty went on to found the short-lived indie outfit Babyshambles, while Barât headed up Dirty Pretty Things.
The press conference was scheduled to address the Libertines' just-announced reunion appearance at the U.K.'s Reading and Leeds festivals (August 27-28), where they'll share the bill with the Arcade Fire, among dozens more. According to the Guardian, the band was offered around $2.2 million for the two gigs.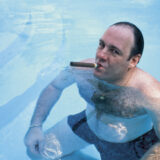 "There's no bitterness," said Barât according (via The Daily Mail). "Fuck off with your bitterness. Forgive and forget that's what I say."
Acknowledging their unstable past, Barât hinted that the reunion could be short lived — especially with quite a stretch of time lying between last night's press conference and the scheduled shows. "Four months is a long time for the Libertines, so whatever happens, happens," he said, also acknowledging the band had yet to even sit in a room together. "We're going to see how it goes. If it works, it works."
Doherty, meanwhile, avoided questions surrounding his involvement in the recent drug overdose death of heiress Robin Whitehead, instead taking an optimistic stance on being back with the Libertines: "Looking back, we did produce things we are so proud of, and we want to get back to that."
WATCH: The Libertines Press Conference
https://www.youtube.com/embed/wn08clJPO-4
The Libertines' Boogaloo setlist:
"Georgia On My Mind"
"The Good Old Days"
"Music When the Lights Go Out"
"France"
"Death on the Stairs"
"Sally Brown"
"Can't Stand Me Now"
"Time For Heroes"