Rehabbed Detroit rapper Eminem is done with Relapse and on the road to Recovery.
Wednesday afternoon, after weeks of telling fans to tune into Twitter for a "big news" announcement, Em finally dropped a whopper: he announced that Recovery, his seventh studio album, will arrive June 22 with contributions from DJ Khalil, Just Blaze, Jim Jonsin, Boi-1da, and more!
The announcement follows a Tweet Wednesday morning about the much-rumored sequel to his chart-topping 2009 release, Relapse. "There is no Relapse 2," he wrote. Below, Em explains the last minute title change.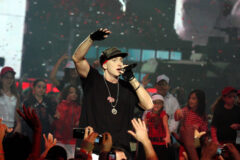 "I had originally planned for Relapse 2 to come out last year," he said in a statement. "But as I kept recording and working with new producers, the idea of a sequel to Relapse started to make less and less sense to me, and I wanted to make a completely new album. The music on Recovery came out very different from Relapse, and I think it deserves its own title."
Recovery collaborator Just Blaze recently dished about the new album. "The wordplay is crazy, the metaphors are crazy," he said. "He's really back on his game. He had his ups, he had his downs, he's back way, way, way up."
No word on the album's tracklist — or if these two leaked tunes will be included — but fans hungry for more Eminem don't have to wait until June: Marshall Mathers will appear alongside Paramore singer Hayley Williams on Atlanta rapper B.o.B.'s new album, The Adventures of Bobby Ray, out April 27. Read about the collabo here.