David Bowie may be keeping a low profile, but his musical descendents are speaking up.
MGMT, Duran Duran, Vivian Girls, and Chairliftround out the eclectic cast behind Repetition: A Tribute to David Bowie, a double album homage to Mr. Ziggy Stardust dropping September 6 via Manimal Records.
Other contributing artists include Devendra Banhart's Megapuss, Edward Sharpe & the Magnetic Zeroes, former Red Hot Chili Pepper guitarist John Frusciante, and Carla Bruni, the First Lady of France!
On the collection, the big-name acts take on more obscure Bowie tunes (MGMT does Station to Station's "TVC 15" and Duran Duran covers Lodger's "Boys Keep Swinging"), while the Brit's trademark hits are interpreted by smaller, more emerging acts (Brooklyn's A Place to Bury Strangers on "Suffragette City" and California grindcore vets All Leather on "Fame").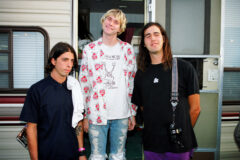 The album — available to pre-order now via Manimal — will be available on CD, double vinyl LP, and as a download. All proceeds will benefit War Child, an international charity for children affected by war.
Check out the complete tracklist below — as posted on Duran Duran's blog.
Repetition: A Tribute To David Bowie tracklist
Disc 1:
1. Exitmusic, "Space Oddity"
2. Duran Duran, "Boys Keep Swinging"
3. Megapuss (Devendra Banhart), "Sound + Vision"
4. Warpaint, "Ashes to Ashes"
5. Chairlift, "Always Crashing in the Same Car"
6. A Place to Bury Strangers, "Suffragette City"
7. All Leather, "Fame"
8. We Are the World, "Afraid of Americans"
9. Carla Bruni, "Absolute Beginners"
10. VOICEsVOICEs, "Heroes"
11. Corridor, "Be My Wife"
12. Vivian Girls, "John, I'm Only Dancing"
13. Lights, "World Falls Down"
14. Keren Ann, "Life on Mars"
15. Genuflex, "Soul Love"
16. Edward Sharpe & the Magnetic Zeroes, "Memory of a Free Festival"
Disc 2:
1. MGMT, "TVC 15"
2. Aska & Bobby Evans (feat. Moon & Moon), "African Night Flight"
3. Tearist, "Repetition"
4. The Polyamorous Affair, "Theme From Cat People"
5. Halloween Swim Team, "Look Back in Anger"
6. Jessica 6, "I'm Deranged"
7. Rainbow Arabia, "Quicksand"
8. Swahili Blonde (feat. John Frusciante), "Red Money"
9. Aquaserge, "The Superman"
10. Sister Crayon, "The Bewlay Brothers"
11. Lewis & Clarke, "Changes"
12. Mechanical Bride, "Sound + Vision"
13. Zaza, "It Ain't Easy"
14. Ariana Delawari, "Ziggy Stardust"
15. Mick Karn, "Ashes to Ashes"
16. Xu Xu Fang, "China Girl"