Brooklyn rockers the Hold Steady are returning May 4 with their fifth album, Heaven is Whenever — and you can stream its third track, "The Weekenders," below!
As we predicted, Craig Finn and Co. still sound like everyone's favorite Brooklyn bar band — even without keyboardist Franz Nicolay, who departed in January. The group makes up for the missing keys with some extra-epic guitar parts throughout, but like most Hold Steady tracks, it's Finn's emotional lyrics that make "The Weekenders" shine.
The song starts out slow, building to a high-energy chorus: "If it has to be a secret, I guess I can deal with it / You and I both know it's a negative thing," Finn sings. The chorus is followed up by colorful scene-setting that's typical Finn: He describes an Industrial Age-themed party at a bug-infested bar, where a "kid camped out by the coat check" rubs shoulders with a train-wrecked girl.
"It's our fifth record, so we tried to make it as good as it can be," Finn recently told SPIN about the album. "I think it might be more realized. Working at a more deliberate pace led to a more realized record."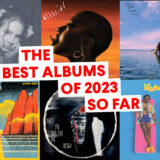 The band's U.S. tour kicks off today in Ardsley, NY and finishes up at next month's Sasquatch Festival in George, WA. Check out the band's tour dates here, and let us know what you think of the new track in the comments section below.
LISTEN: The Hold Steady, "The Weekenders"